Council tax benefits in Wales extended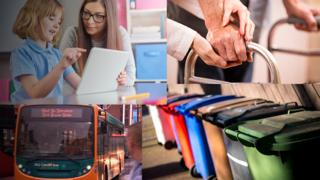 A benefit scheme resulting in thousands of Welsh households paying only partial or no council tax at all has been extended by the Welsh government.
Wales' 22 local authorities will receive a cut of the £244m earmarked to pay for the scheme in 2018/19.
Finance minister Mark Drakeford said councils in England were, in contrast, leaving two million low income households paying more council tax.
Some 220,000 Welsh homes did not pay last year.
About 300,000 households received means-tested help with their council tax bills.
The UK government transferred responsibility for the benefit to Wales in April 2013 but cut the budget by about 10%.
AMs were recalled from recess for a one-off meeting in December 2012 to approve regulations on the council tax benefit after an earlier attempt to rush through the regulations failed.
Details of the latest announcement will be unveiled by the finance secretary on Tuesday when he announces how much cash councils are to get from the Welsh Government next year.
The Welsh Government's draft budget will see council budgets fall by between 1.5% and 2% after inflation next April - leading to warnings that council tax could have to rise as a result.
Ahead of the statement in the Senedd, Mr Drakeford said about the extension of the council tax reduction scheme: "Despite the UK Government cutting our funding for the scheme by 10%, the Welsh Government has worked with local authorities to secure reductions in council tax for vulnerable and low income households.
"Compare this with England where local authorities have been left to design their own schemes and manage the associated funding shortfall."