Theresa May: No conceivable reason she should go, Crabb says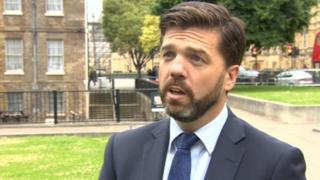 Former Welsh secretary Stephen Crabb has urged under-pressure Theresa May not to be rushed into a reshuffle.
There has been growing unrest among Tory MPs over the prime minister's ill-fated decision to call a general election and progress on Brexit talks.
Mr Crabb said there was "no conceivable reason" she could not remain PM.
He also urged her not to sack Foreign Secretary Boris Johnson, citing the need to have "all of your best players on the pitch".
On Friday, former Conservative chairman Grant Shapps said 30 Tory MPs backed his calls for a leadership contest.
But Mrs May told the Sunday Times she was "pretty resilient" and it was not her style to "hide from a challenge" despite a mishap-strewn party conference speech.
However, Downing Street dismissed the newspaper's report that she was planning a reshuffle to re-assert her authority as "speculation".
Mr Crabb, a contender in the leadership battle won by Mrs May after the 2016 vote for Brexit, told BBC Radio 4 she "absolutely" could survive beyond Christmas.
"How long she continues will be a decision that she makes," he told The Westminster Hour.
"There's no conceivable reason why she doesn't lead this government right through the whole term of this Parliament, if that's what she chooses to do."
The Preseli Pembrokeshire MP said there was "a lot of admiration and respect" for the way she handled a coughing fit and the intervention of a prankster during her conference speech last Wednesday.
"I don't buy this theory that somehow we're starting this new session of parliament now with the prime minister in any more of a difficult position," he said.
Regarding the issue of a reshuffle, Mr Crabb said it was "a natural part and parcel of what party leaders do".
He said he recognised "an incredibly talented young crop of MPs" coming through but added that she should not carry out a reshuffle "under external pressure".
Some MPs have suggested Mrs May should sack Mr Johnson for what they see as disloyalty in writing articles setting out his own vision for Brexit.
But Mr Crabb said: "He's a pretty formidable player and you want all of your best players on the pitch at the same time, playing together as a team.
"I think that's the overwhelming desire of party activists and MPs that I speak to.
"They want to see the government working together with a unity of purpose and really getting to grips with the very serious challenges that face the country."