Welsh devolution is being betrayed, says Lord Elystan-Morgan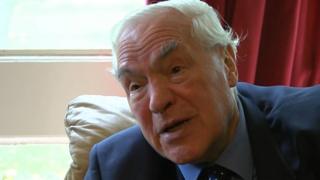 Wales needs the status of a dominion to safeguard its constitution, a former Labour UK government minister has said.
Lord Elystan-Morgan, who led the failed 1979 campaign for an assembly, said the Brexit bill and the Wales Act "betrayed" devolution.
Dominion status used to give parts of the British Empire - such as Australia and Canada - control over their own affairs in the early 20th Century.
He will speak at a pro-independence event staged by Labour members later.
But, speaking on BBC Radio Wales, the cross-bench peer who takes the Labour whip said independence was a "non-runner".
"I don't believe that independence is a reality in the modern world," he told the Good Morning Wales programme.
"Every sovereign country that has obligations towards other nations by way of agreement or otherwise is less than independent."
'Mockery'
Lord Elystan-Morgan said in Wales "devolution seems to have run into the sand".
"It is unlikely that we can rely upon devolution to give Wales those powers and functions that it needs as a nation, therefore we have to look beyond that," he said.
"I'm thinking myself in terms of dominion status - some form of constitutional identity that would safeguard the position for Wales."
The peer said the Wales Act - which ushered in the "reserved powers" model - made the idea of devolution "a mockery" and "rubs our noses in it that we are something of a colonial status".
"The concept of a reserve constitution is that you transfer everything to the devolved parliament save a few pillars that remain with the sovereign authority," he said.
"But in this case there were 197 reservations including the most trivial things imaginable."
The Wales Act gave the assembly new powers over income tax, transport, energy, and its own elections.
The UK government said it would provide a lasting devolution settlement.
However, its planned Brexit legislation has been criticised by First Minister Carwyn Jones as a "naked power-grab" of European Union responsibilities which he claims ought to revert to Wales.
Dominion status was granted at first to countries such as Australia, Canada and New Zealand, followed later by others including India and Pakistan.
The term - which denoted countries that were effectively independent but who were still allied to the crown - fell out of use by the 1950s.
The predecessor to the Republic of Ireland - the Irish Free State - was a dominion from 1922 to 1949.
Lord Elystan-Morgan is one of several speakers at the Labour for an Independent Wales event in Carmarthen on Friday.
Ben Gwalchmai, one of the group's founder members, said: "The threat of Brexit, and the intransigence of the British state in face of austerity, insecurity and a lurch to the right has left us in a situation where we must consider all our options."
Swansea East AM Mike Hedges will also speak, but has said he does not himself back independence for Wales.