Pembrokeshire bin changes plans to avoid £1.4m fines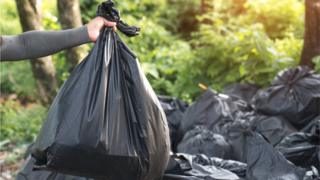 Bin collections in Pembrokeshire look set to be slashed to once every three weeks in a radical overhaul to waste services.
Household waste is currently collected fortnightly with no restrictions on the amount each household can throw out.
Under potential new rules, each home would be limited to three black bags, collected every three weeks.
An improved kerbside recycling scheme would also be introduced in a bid to avoid £1.4m in fines.
If introduced Pembrokeshire would be the first Welsh authority to trial three-weekly collections with only black bags - not bins - across the whole authority.
A report, discussed on Thursday, warned the council risked fines of up to £560,000 annually if it failed to meet Welsh Government recycling targets.
In 2017/18 the target stands at 58%, which the council looks set to meet, with a provisional recycling rate of 59.63% of all waste.
But in forthcoming years, the targets will get tougher with authorities expected to recycle 64% of waste in 2020 and 70% in 2024, or face a £200 per tonne fine.
Councillor Cris Tomos, cabinet member for environment, told the council's scrutiny committee the authority risked being fined £1.4m per year from 2024 if changes to the service were not made.
Mr Tomos said the authority has seen a drop in recycling this year, partially due to issues caused by the waste site in Pembroke Dock, run by operator Sundorne Products (Llanidloes) Limited, having its waste permit partially suspended by Natural Resources Wales, and changes to the treatment of wood.
He said changes to recycling were a "real opportunity" to reduce black bag rubbish, meaning there would not need to be as many collections.
The move follows changes by other authorities in Wales, including Bridgend, which is bringing in a similar three-weekly black bag system, and in Conwy where monthly collections have been trialled.
But a report before the committee said that no council in Wales has tried to do three-weekly collections with bags only and not bins.
Any changes would have to be approved by Pembrokeshire council's cabinet before they could be implemented.
Under the changes, which are recommended for council approval, black bin bag collections will be reduced and the current recycling system would change to mean that residents would have to separate their cardboard, plastic, paper and glass before putting it on the kerbside.
A fortnightly service for nappies and other absorbent hygiene products could also be introduced.