Circuit of Wales boss refuses background report release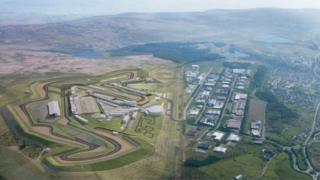 The chief executive of a company behind a rejected £433m racetrack has not agreed to the release of a key report into his background.
In June, ministers refused to underwrite half the cost of Circuit of Wales in Ebbw Vale, Blaenau Gwent.
On Friday, Ken Skates said the Welsh Government could not publish its fit and proper person test report into Michael Carrick as he had not yet consented to it.
Mr Carrick declined to comment.
He served as chief executive of the Heads of the Valleys Development Corporation, which led the Circuit of Wales project.
Economy Secretary Mr Skates has released a series of documents that formed part of the due diligence process ahead of the decision.
"In relation to the fit and proper person test report, we have been unable to publish either in full or in summary because Michael Carrick has not yet consented to its release," he said.
The minister has been accused of selectively quoting job creation numbers to justify scrapping the project.
One document from consultants Regeneris suggested the total number of people employed at the circuit would have been 115, similar to the figure of about 100 Mr Skates quoted in June.
Regeneris also said the 7,307 construction jobs suggested by developers would actually be 2,480.
But the Welsh Government said this figure represented about 500 jobs recurrent for five years.
A separate report from Grant Thornton suggested the Welsh Government could have been underwriting 56% of the project, not the 50% ministers had insisted on as a maximum.
Grant Thornton expressed concern developers were proposing to take £59m from the scheme as profit.
They noted that although the Welsh Government was being asked to underwrite £210m, with inflation, the true exposure could be £383m.
Mr Skates said: "The financial and construction reports that have been published draw attention to the risks highlighted by our advisors, including the risk to public finances that would have been created by offering the requested guarantee."
Ministers have already announced plans for a £100m automotive business park in Ebbw Vale.
On Thursday, Plaid Cymru said the figures in the Regeneris report had been "cherry-picked" by the Welsh Government "in order to spare its blushes at pulling the plug on a project with significant potential".
Prior to rejecting the scheme, the Welsh Government gave Circuit of Wales backers more than £9m to develop the plans.
The auditor general criticised "significant shortcomings" in the way that money was handed over.