Welsh Assembly sets aside £1.1m to plan new accommodation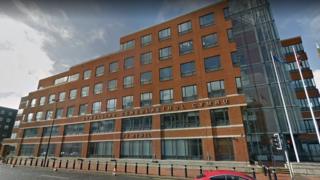 The body which runs the Welsh Assembly has earmarked £1.1m over three years to develop plans for extra premises.
The Assembly Commission has said space in Ty Hywel, next to the Senedd in Cardiff Bay, is "under pressure" as more powers are devolved.
The number of staff has grown by about half since 2007 to more than 450.
The commission said: "No decisions have been taken on how to address the shortage of accommodation, including on renting, renovation or new build."
The money - £700,000 next year and £200,000 in each of the following two years - will only be spent if a decision is taken to press ahead with a planning application for a new building.
Ty Hywel is rented, while the Senedd building - which includes the debating chamber - is owned by the assembly.
Initial feasibility work suggested the assembly would need 80,000-105,000 sq ft (7,430-9,755 sq m) to meet the additional requirements.
According to its draft budget for 2018-19, the assembly is "expanding its fundamental roles to engage with the people of Wales and to properly scrutinise the government, through times of great constitutional and economic upheaval".
"The case for additional accommodation is driven by the need to ensure that our estate can continue to provide an appropriate home for the assembly, which continues to evolve, taking on increased powers and responsibilities," the document said.
"With greater devolved powers, and as the assembly moves into a post-Brexit world, there is a greater need than ever to have an estate that delivers the required capacity, enhances the profile of Wales internationally, encourages public engagement and makes the work of Parliament more accessible to the citizens of Wales."
The number of staff employed by the commission is currently 452 full-time equivalents, with 18 vacancies.
This is an increase of about 50% on the 312 full-time equivalent staff employed when the commission was established in May 2007, when the law was changed to separate the Welsh Government from the assembly.