PFI: Minister open to helping councils and public bodies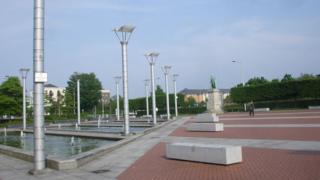 Public bodies could get help to buy themselves out of expensive private contracts if it saves public money, the finance secretary has said.
Some authorities have already bought themselves out of controversial private finance initiative (PFI) deals.
Mr Drakeford told the assembly's finance committee he expected all contracts to be kept under review.
Asked if funding would be available, Mr Drakeford said: "We would always be up for that sort of conversation."
"If a public body were able to demonstrate that an early end to the contract saved money over the long run then we would always be willing to talk to them about ways in which they could make that happen," he said.
PFI was designed to spread the cost of things like building schools, hospitals and major projects such as the Second Severn Crossing.
But it has been criticised for tying the taxpayer into long, expensive deals.
Shadow chancellor John McDonnell has said a Labour UK government would bring PFI contracts back into the public sector in England.
Mr Drakeford also took questions about the Welsh Government's 2018-19 spending plans, amounting to around £15.3bn, which he announced on Tuesday.
He claimed the Welsh Government would have been £4.5bn better off if its budget - most of which comes from a grant from the Treasury - had increased in line with UK economic growth over the last nine years.
The UK government instead used much of the additional revenue to reduce the annual UK budget deficit, Mr Drakeford said, adding: "If the economy is growing, public services should have their share."
Regarding the short-list of four possible new taxes - a vacant land tax, a tourist tax, a tax on plastic packaging, and a charge to cover social care costs - Mr Drakeford said the social care levy may not be the first chosen, partly due to complications with the non-devolved benefits system.
Given any new Welsh taxes need to be approved by Westminster, he said it was "a bit of a big idea" to test the legislative machinery with.
On the subject of the proposed M4 relief road, the minister said no specific money had yet been allocated for the £1.1bn scheme, currently being examined by a public inquiry.