Most Welsh Conservative MPs back May's premiership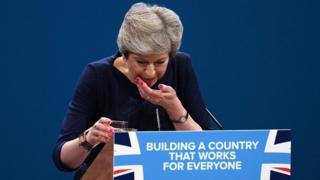 Most Welsh Tory MPs are backing Theresa May, but one told BBC Wales many in Westminster "feel she can't go on".
The prime minister's party conference speech was marred by a persistent cough, a prankster and letters falling from the slogan on the wall behind her.
Welsh Secretary Alun Cairns said he was not aware of any plot to ask the prime minister to stand aside.
But one MP said opposition to her was "moving but it's unclear whether it moves to the extent where she goes".
The source added: "There are lots of conversations going on at the moment. There's a lot of dissatisfaction in the party.
"There are colleagues who previously thought she should be given the benefit of the doubt who are now questioning whether she can go on."
However, most of the Tory MPs in Wales declared their support for Mrs May's premiership.
Montgomeryshire MP Glyn Davies said he is "completely backing" Theresa May, whilst another of the Conservative's eight Welsh MPs said "she was absolutely the right person to lead the government".
David Davies, MP for Monmouth, told BBC Radio Cymru's Taro'r Post "I am very happy with Theresa May" but admitted "things are unpredictable at the moment".
Another MP said: "There's an awful lot of love, good will, respect and admiration for Theresa.
"No-one's in any mood to see a leadership challenge. I don't know who those people seeking one would be.
"There are a few too many egos around the cabinet making it difficult for her."
But the source did add that "since the disastrous election, it's been very, very difficult."
Mr Cairns told BBC Radio Wales' Good Morning Wales programme: "The colleagues that I've spoken to throughout the whole week of the Conservative Party conference are demonstrating strong support and I think the strength of character she showed yesterday will draw even further support from the colleagues."
Mr Cairns said she showed extraordinary "strength of character" by continuing her speech and he "might have run away" had he been the one interrupted on the podium by a man branding a fake P45 document.
"It must have been extremely frightening and alarming, and I'm glad that there is going to be a review of security arrangements because if I had been in her circumstances I might have run away."