John Rees-Evans quits UKIP to form new party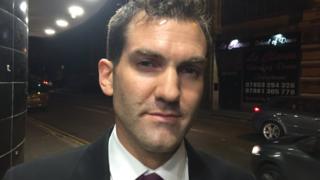 Former UKIP leadership hopeful John Rees-Evans has left the party to form a new political group called Affinity.
The Cynon Valley-based politician came fourth in September's UKIP leadership contest, and third in November 2016.
The new party's website says it has "used pure common sense in the research towards solving all the issues facing Britain today".
It aims to persuade sufficient numbers of current MPs to join its ranks to force a general election in 2020.
Policies include scrapping national insurance and creating a new national bank that will pay 10% interest on savings and 8% on current accounts.
Mr Rees-Evans, who stood for UKIP in Cardiff South and Penarth at the 2015 general election, wrote on Facebook: "I am convinced beyond any question that Affinity is the most powerful weapon in the world to deliver Direct Democracy through its Smart Democracy programme."
He caused controversy in 2014 when he was filmed telling a story about a male donkey raping his horse, in answer to a question about homosexuality.