Social care cost inquiry for ageing population in Wales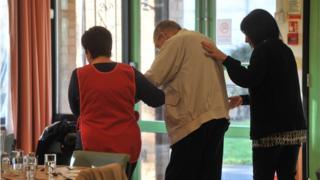 An inquiry into the cost of caring for an ageing population has been launched by the Welsh Assembly.
The finance committee will examine the demand for social care and how much it costs to provide the service.
Staff recruitment and retention have been identified as causes for concern.
Plaid Cymru AM Simon Thomas, who chairs the committee, said it was "critical the right health and social care services are in place to cope not just now, but in the future".
Official statistics show that Wales has the fastest-growing proportion of older people in the UK - by 2039 there will be 44% more people aged over 65 compared to 2014.
Over the same period there is expected to be a 5% relative decrease in the number of working age adults - potentially meaning fewer people available to work in social care and fewer taxpayers to fund it.
'Fair and sustainable'
"Wales is ageing faster than any other UK nation," said Mr Thomas.
"We intend to look closely at the financial impact of Welsh Government policies on local authorities, care providers and service users of recent social services legislation and reforms to social care funding.
"We'll also assess the fiscal levers available to the Welsh Government to reform the arrangements for funding social care to ensure a good quality, fair and sustainable service in a time of increasing demands on the health and social care systems."
The role of informal carers who provide unpaid services will also be taken into account.
The public consultation will run until 10 December.
Age Cymru's deputy chief executive Victoria Lloyd said the charity welcomed the inquiry.
"Older people tell us that it can be a real struggle to arrange a care needs assessment with local social services; the process that is supposed to map out the care vulnerable older people need," she said.
"The lack of effective care provision can also affect their friends and families who often feel they have to plug the gaps left by social services."