Welsh Tory leader has 'armchair generals' in his sights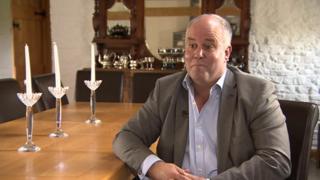 Greetings from Manchester, where the Conservatives are holding their annual conference - and an inquest into the general election.
Andrew RT Davies has complained about what he calls "armchair generals dictating from afar". But his suggestion that the Welsh Tories be given more control of election campaigns appears to have been ignored by the party's official inquiry into what went wrong.
Some may wonder why the Welsh Tory leader has decided to re-open publicly old wounds from that campaign, notable for his row with Welsh Secretary Alun Cairns over a televised debate and Mr Davies's disappearance on holiday mid-campaign. (His own campaign for the Welsh Tories to have a single distinctive leader - it's possible he may have a candidate in mind - does not appear to be winning support in Conservative Campaign Headquarters.)
Mr Davies told the Sunday Politics that the Conservatives needed to win votes in cities and urban areas and later used his speech to the party conference to argue that the party needed "to speak outside our traditional voter base".
By that, he means the Tories need to appeal to younger voters: "And that begins by speaking to them - speaking to their needs.....if we don't then false prophets and their falsehoods will flourish."
The need to appeal to younger voters - and to tackle the appeal of Jeremy Corbyn - is never far from the minds of members here, whose average age is reportedly 72.
Theresa May has tried to counter that by promising to cap university tuition fees in England and raise the amount graduates can earn before having to start making repayments. The changes apply only in England but may well change the landscape in Wales.
Mrs May also announced the expansion of the Help to Buy equity loan scheme, with Chancellor Phillip Hammond promising "to help a whole new generation of young people, across the UK, with the upfront costs of home ownership".
That appears to suggest it would apply also in Wales, where the Welsh Government operates the scheme, although the Conservatives here in Manchester were unable to confirm this.
The danger for Mrs May is that by highlighting political problem areas - where Labour has made the running - she risks both highlighting the saliency of those issues and conceding the arguments to her opponents.
Andrew RT Davies told members: "To defeat the unforgiving socialism of the Labour Party, we need to show that Corbyn is nothing more than a seductive and destructive lie". The election and last week's party conference suggest the Tories are unlikely to defeat the Labour leader by promising to out-spend him.