Conservatives 'need young voters on side', says RT Davies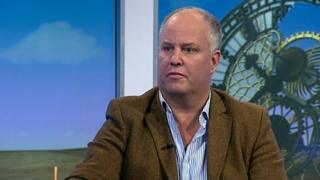 Jeremy Corbyn is "nothing more than a seductive lie", Andrew RT Davies has said as he urges the Conservatives to focus on the youth vote.
Mr Davies, the party's leader in Wales, told delegates Labour will "shamelessly swindle" young voters with "promises they can't keep".
He urged his party to get young people "on our side".
Mr Davies delivered his speech to the Conservative conference in Manchester at on Sunday afternoon.
It comes after the Tories lost their majority in the general election, trailing behind Labour by 30% among voters aged 18-35.
Mr Davies said it shows his party has "some lessons to learn", and needs to persuade young people "that fairness and aspiration matter more than quick fixes and expensive gimmicks".
"We need to show that Corbyn is nothing more than a seductive and destructive lie," he said.
"And we need young people on our side. And that begins by speaking to them - speaking to their needs."
By using new tax powers in Wales, the Welsh Conservatives can help voters raise deposits for their own home and scrap stamp duty for first-time buyers, he said.
Mr Davies also suggested making sure all public sector staff in Wales under the age of 25 are paid the living wage.
He has previously conceded the party also has to do more to attract urban voters.
Later in his speech, Mr Davies called for the UK and Welsh governments to pull together on Brexit for "our nation's interest".