Lack of women council top bosses 'deeply worrying'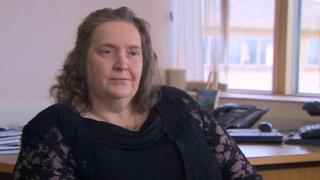 Two of just three women chief executives at local authorities will leave their posts in October.
Bronwen Morgan, retiring from the job at Ceredigion council, called the lack of diversity "deeply worrying".
Dr Helen Paterson also departs Wrexham council, leaving Torfaen's Alison Ward the only female top boss for the 22 authorities.
Michelle Morris will become Blaenau Gwent's new managing director after its chief executive role was scrapped.
The Welsh Local Government Association, which has its first female leader, has been asked to comment.
Gender equality charity Chwarae Teg said the figures were "frankly embarrassing" and women's needs could not be represented when they were not part of the decision-making process.
In 2016, more than half of the Welsh population was estimated to be female - with 1,579,112 women, compared to 1,534,038 men - according to Office of National Statistics figures.
However, at council level, there are 50 women in positions on cabinets - the groups responsible for areas such as education and housing - compared to 188 men.
Two councils, Vale of Glamorgan and Blaenau Gwent, have all-white male cabinets.
But the number of female council leaders has doubled since the last elections, from two in 2012 to four in 2017, out of the potential 22 positions.
Departing Ceredigion chief Ms Morgan said: "The reduction in number (of chief executives) is deeply worrying, we really need to do more to encourage women to apply for these posts.
"We all have a role to encourage, but encouraging alone isn't sufficient.
"There needs to be a level of expectation of us women, that we can fill these positions just as well as the men.