RAF asked Welsh hopeful to pass an English test despite his GCSE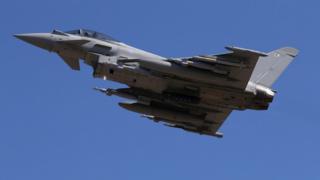 A Welsh RAF applicant was asked to take an English test despite holding a GCSE in the subject.
Defence Minister Tobias Ellwood said Wales-only qualifications had not been seen as acceptable qualifications under English apprenticeships guidelines.
Former Welsh Secretary Stephen Crabb said it was "demeaning" for Welsh applicants to be asked to take additional qualifications.
Mr Ellwood said the guidance had since been revised.
Preseli Pembrokeshire MP Mr Crabb wrote to the minister after a constituent's son had to undertake an English assessment during a pre-recruit training course at RAF Halton, Buckinghamshire.
This was required even though he already held a Wales-only English GCSE from the WJEC exam board.
The MP said he was aware of several instances where this had happened.
"There should be no discrimination between GCSEs from England and the devolved nations - especially in our Armed Forces which recruit heavily from Wales and Scotland," Mr Crabb said.
In a letter to Mr Crabb, the defence minister said the English and maths qualifications required by RAF entrants are determined by apprenticeships the individual will undertake after graduating - with the criteria regulated by the Specification of Apprenticeships Standards for Education (SASE).
Mr Ellwood said guidelines at the time "stated that qualifications exclusive to Scotland, Ireland or Wales were excluded", and that the GCSE did not correspond to examples of acceptable evidence.
"It was on these grounds that [the applicant] was required to undertake the functional skills literacy [assessment] during the pre-recruit training course," the minister said.
Mr Ellwood added that the SASE had since been updated with an extended list of acceptable English and Maths qualifications, including some Welsh qualifications that were not previously included.
An RAF spokesman said: "Individuals entering the RAF to complete an apprenticeship are required to meet the standards set by SASE.
"Following a recent Ministerial enquiry, the RAF is seeking guidance to confirm if the WJEC GCSE English Language (Wales) qualification is acceptable for apprenticeships."