Welsh Conservative leader targets voters in Welsh cities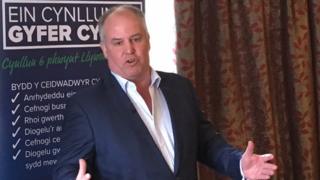 Welsh Conservatives need a fresh approach to winning votes in the big cities, the party's leader in the assembly Andrew RT Davies has said.
Speaking ahead of the Tory conference in Manchester, he conceded the party had to do more to attract urban voters.
The Conservatives represent no urban seats in the Senedd and lost Cardiff North at the general election in June.
"If you want to be a national party you have to represent all parts of Wales," Mr Davies told BBC Wales.
"It cannot be right, going forward, that we do not have members of parliament or assembly members in constituencies in our big cities, for example," he said in an interview with Sunday Politics Wales.
"So we need to have an urban renewal programme and plan, so we're reaching all parts of Wales."
Mr Davies wants the party to elect a single Welsh leader as his authority does not extend beyond the assembly Tory group.
He said the Conservatives needed to be in a position to fight "the elections of the future".
"In the five-year electoral cycle, two of the elections - local government and assembly - will be wholly devolved elections," he said.
"The rules of engagement, the terms of reference for the constituencies, for boundaries, for the way people will be elected, will be determined by the assembly.
"The policies will come out of the assembly, so we need to respond to that.
"If you fight a battle and you don't know the battlefield then you really aren't going to succeed in winning that war."
There were "conversations all the time" within the party on the issue, Mr Davies said.
During the general election campaign, Mr Davies and Welsh Secretary Alun Cairns become embroiled in a row over who would take part in a televised BBC debate.
The Tories were eventually represented by education spokesman Darren Millar AM.
Mr Cairns said it was intended that Mr Davies would be the representative, but a spokesman for Mr Davies accused Mr Cairns of being "unwilling" to take part himself.
Mr Davies, leader of the assembly group since 2011, said he was "enjoying every moment" of the role.
"So long as the group and the Conservative Party will have me, I will be privileged to carry that job on," he said.