Labour and Plaid Cymru agree two-year budget deal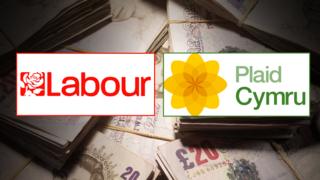 Plaid Cymru has agreed to back the Labour-led Welsh Government's budget for the next two years.
The deal, said to be worth £210m, includes £40m to boost mental health funding and £40m for higher and further education between 2018 and 2020.
Plaid's Adam Price said the budget would deliver "tangible benefits for people's lives".
But the deal could be the last of its type forged between Plaid Cymru and Labour.
The Welsh Government is due to publish the draft budget for 2018-19 on Tuesday. Labour needs outside support to get budgets through the assembly as it does not have a majority.
The agreement, announced on Sunday, includes £30m for a power plant at the Port Talbot steelworks and £2m to scrap the Cleddau Bridge tolls - which are 75p for cars - by 2020.
Other commitments include:
£14m to develop north Wales undergraduate medical training
£15m for improvements to sections of the A487 and the A470 from 2019
£3m for the design and development of the third Menai bridge crossing
£2m for electric charging points
£5m from 2019 for a national art museum and north Wales football museum
£10m investment in the Welsh language
No cuts to the supporting people grant, which helps vulnerable people live independently
Plaid Cymru said it had also secured the re-establishment of perinatal mental health support service in Wales, as well as 80 new district nurses.
Some of the cash - about £50m per year - is allocated to pay for commitments that were made previously in the 2017-18 budget deal with Plaid Cymru.
The new agreement - which will allow Labour to pass budgets for both 2018-19 and 2019-20 - will "deliver tangible benefits for people's lives", said Plaid finance spokesman Mr Price.
"From bread and butter services including the NHS and the roads we drive on, to exciting new innovative models of care and regional economy, Plaid Cymru's budget agreement will mean investment in the things that matter to people," he said.
Mr Price claimed his party had secured £500m for its manifesto commitments since the assembly election.
But he said Plaid was "frustrated that the government rejected our calls for action on crucial issues such as the pay cap and tuition fees".
"As we move closer towards the next election then I think you will see a shift in tone and emphasis because we are then gearing up to become the next government of Wales."
He told BBC Wales he suspected "it would be the last budget agreement that we would agree with this Labour government".
Labour has 29 AMs - two short of a majority.
'Charade'
Together with Lib Dem Education Secretary Kirsty Williams, the party needs one additional vote or at least one abstention to get budgets through the Senedd - Plaid plans to abstain from this vote.
If Plaid refuses to help Labour in future, it could need to rely on the sole support of Lord Elis-Thomas, an AM who supports the government but is an independent.
Welsh Government Finance Secretary Mark Drakeford told BBC Wales' Sunday Politics Wales programme the agreement provided "security and certainty".
"There is nothing on the list of things we have agreed with Plaid Cymru that we did not want to do," he said.
"What they have been able to do is accelerate up the list of priorities some things which without the deal we may not have been able to find the money for.
"But there is nothing on this list that a Labour assembly members will not be pleased to vote for."
But the leader of the Welsh Conservatives Andrew RT Davies called the deal a "charade in the Plaid-Labour love-affair".
"Both parties have given up on their political principles on tuition fees, public sector pay and M4 for another cosy backroom deal," he said.