Swansea tidal lagoon: Senior Welsh Tories urge PM to back bid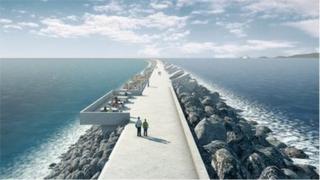 The prime minister has been urged to approve the Swansea Bay Tidal Lagoon plan by senior Welsh Conservatives.
Theresa May has admitted "complexities" with the £1.3bn scheme and that the UK government has to look at "issues" before committing taxpayers' money.
The project was recommended for approval by an independent review which reported in January.
Welsh Labour said the open letter to the PM from Welsh Tory leader Andrew RT Davies and others was "pathetic".
The letter, in the name of the new Welsh Conservative chairman Byron Davies, was also signed by all 11 Conservative AMs, three MPs and nine leaders of Conservative groups on local councils.
They said the "bold" project could "revitalise" the economy.
The lagoon, they added, would cost households "less than the price of a pint of milk each year" and opened up the prospect of generating power which could "compete with, if not outperform, existing large-scale low carbon generators".
The project had been promoted by the Conservatives in their 2015 general election manifesto, but following their victory they commissioned an independent review of the technology's viability by former energy minister Charles Hendry.
His report in January said the Swansea lagoon would be a cost-effective "no regrets" option bringing "significant economic opportunity".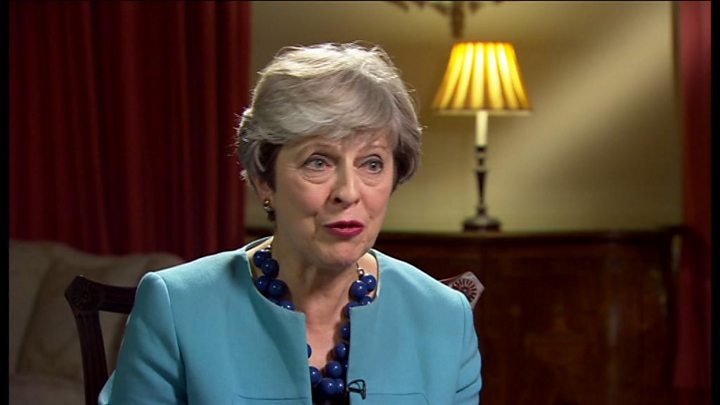 Amid continuing concern about the delay in a decision, Mrs May told BBC Wales: "This is a really interesting technology but, of course, there are issues.
"As we look at these issues we do need to make sure we're being fair to taxpayers and looking at all the issues around this."
A major sticking point has been the amount of subsidy the project would need in terms of an agreed "strike price" for the power generated.
The proposed lagoon would involve building a 6-mile (9.5km) seawall off Swansea Bay, embedded with 16 turbines.
It would generate 320 megawatts of electricity, with developers Tidal Lagoon Power proposing a price of £89.90 per megawatt hour, guaranteed for 90 years.
Hinkley Point C, the planned new nuclear power plant in Somerset, will cost £92.50 per megawatt hour for 35 years.
The Welsh Government has accused ministers in London of preparing to cancel the scheme.
On Thursday, First Minister Carwyn Jones warned it would be harder for the Welsh Government to hit its target of generating 70% of Wales' energy from renewable sources - up from the current 32% - by 2030 without it.
Labour's shadow Welsh secretary Christina Rees said: "The spectacle of the Welsh Tory leader lobbying his own UK government through an open letter is, quite simply, pathetic.
"It shows how little clout Welsh Tories have, and how little respect this UK Tory Government has for Wales."
---
Analysis by David Deans, BBC News
Conservatives are still licking their wounds from a general election result that left them with fewer seats and a prime minister's authority significantly weakened.
That seems to be demonstrated by the willingness of Tory politicians to lobby the prime minister in public on the lagoon and other issues - like Universal Credit and energy prices - just days before their party conference in Manchester opens.
It also suggests a not entirely smooth relationship between the leader of the Welsh Tories - Andrew RT Davies - and Theresa May, if he is seeking to pressure her on the issue in public.