Inefficient homes must be 'designed out' to hit targets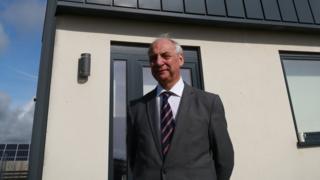 Inefficient homes need to be "designed out" before they are built to stop people living in fuel poverty, an AM has said.
Reports suggest a target to reduce greenhouse gas emissions by 40% in Wales by 2020 is likely to be missed.
An inquiry will examine if a failure to build more energy efficient homes is contributing to this and fuel poverty.
AM Mike Hedges said people in Wales were "falling ill" as they could not afford to heat inefficient homes.
The Labour AM, who heads the assembly's climate change, environment and rural affairs committee, which will run the inquiry, said with thousands of new homes planned in Cardiff alone, they needed to be energy efficient.
He said: "Once they are built, they are with us for the next century, so it's vital that we design out inefficiencies before we bring in the diggers."
He added it was hoped the inquiry would find ways to help reduce carbon emissions and end fuel poverty.
The assembly inquiry will examine a number of issues, including whether there are the right skills in Wales to move the housing sector towards building more low-carbon houses and whether building regulations need to change to meet Welsh Government targets.
The most recent figures from September 2016 showed there are about 291,000 households living in fuel poverty in Wales - equivalent to 23% of households.
Mr Hedges, Labour AM for Swansea, said he had met elderly constituents and young parents who could not afford to heat their homes in the winter months and were becoming ill.
"I met up with a lady, her and her daughter went to bed every night at eight o'clock because they couldn't afford to heat their house, it was the only way to keep warm," he said.