'Changed mood' on news worries Trinity Mirror editor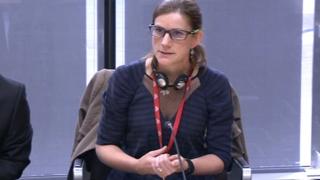 A senior editor at newspaper group Trinity Mirror has told AMs she is worried by a changed public mood on news and the phenomenon of fake news.
Alison Gow, editor-in-chief of the company's regional websites, said people "will actively not read a story" before posting comments on it.
She said staff would sometimes have to join a debate on Facebook to correct people's misunderstanding of a story.
Trinity Mirror titles in Wales include the Western Mail and Daily Post.
Content from its newspapers, which also include the South Wales Evening Post and South Wales Echo, is shared with the group's website Wales Online.
'Echo chamber'
Ms Gow was giving evidence to an inquiry into news journalism in Wales by the assembly's Culture, Welsh Language and Communications Committee.
She said: "The thing that worries me particularly is actually the way that the public mood has changed towards news", describing her concern about "false news and misinformation".
Ms Gow said she felt many website users just "read the headline and then go straight to the comments" to share their opinions.
"You find that people don't actually read the facts," she said.
"People will actively not read a story because they will have a view.
"Then, for example, if you look at Facebook posts, you can see how the conversation becomes an echo chamber.
"I think one of the great problems that we face is trying to burst filter bubbles around that and try to engage people in conversations."
Ms Gow said that on Wales Online's Facebook page staff would "go in quite often and say basically 'that's not what the story's about, it's this'".
Nearly four out of five respondents to a recent poll across 18 countries for the BBC said they worried about what was fake and what was real on the internet.