Youth parliament for Wales 2018 launch hopes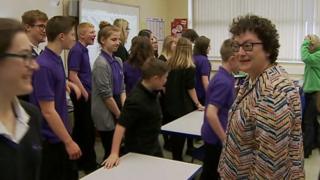 A youth parliament for Wales could be elected next year, the assembly's presiding officer has said, as a consultation's findings are published.
Large majorities agreed the body should be called the Welsh Youth Parliament, independent from all political parties with elections every two years.
Elin Jones said she was "delighted" that more than 5,000 young people shared their views on the idea.
"The proposals are better for it," she said.
"We hope to see the new parliament elected in 2018 and the views of young people will continue to inform our plans as they progress," she added.
The plan to create a youth parliament was backed by all parties in the assembly last October, following concern about the lack of a vehicle to engage young people in politics.
The former Youth Assembly for Wales - known as Funky Dragon - closed in 2014 after the Welsh Government withdrew funding.
The consultation on how the parliament should work ran from April to June, with ideas also gathered from a steering group which includes the children's commissioner, charities, the National Union of Students and groups such as the Scouts, Guides, young farmers and the Urdd.