Corbyn promises Welsh-style organ donor law for England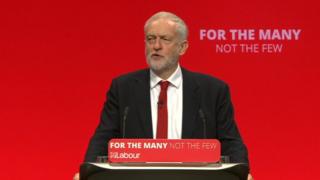 Jeremy Corbyn has said Labour would introduce the Welsh "presumed consent" organ donation law in England.
The Labour leader told his party conference he was deeply moved by a campaign to ensure adults were regarded as having allowed organ donation after their death unless they had opted out.
He said the law in Wales changed under Carwyn Jones's "excellent leadership".
"A Labour government will do the same for England," he told delegates on the final day of the Brighton conference.
Wales become the first nation in the UK to change to the new system, to increase the number of organ donors, in late 2015.