WW1 Weeping Window poppies boost assembly visitors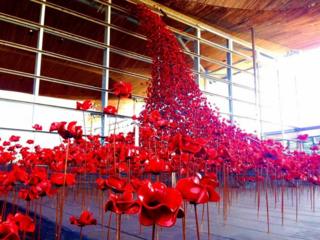 More than 49,000 people visited the Senedd to see a sculpture of thousands of ceramic poppies created to mark the centenary of World War One.
The Weeping Window sculpture was outside the National Assembly in Cardiff Bay since early August.
The assembly said visitor numbers had been three times higher than in the same period in the previous two years.
The sculpture first went on show in Wales at Caernarfon Castle in October 2016 and is now moving to Belfast.
The display is now in the process of being dismantled in Cardiff Bay.
The assembly's presiding officer Elin Jones said it had been a "huge hit" there, attracting visitors from "all over Wales and beyond".
"The Senedd is a stunning location and it has been wonderful to see so many people enjoy the sculpture and take time to reflect and consider its significance," she said.
The sculpture first went on display at the Tower of London in 2014, marking the centenary of the outbreak of World War One.