Lord Elis-Thomas not punished for swearing in Senedd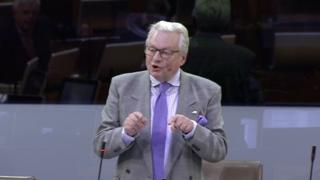 Ex-Plaid Cymru leader Lord Elis-Thomas will not face disciplinary action for swearing in the assembly chamber.
Plaid AM Adam Price had asked for a ruling on whether the comments, in a angry debate last Wednesday, were "appropriate parliamentary language".
Presiding Officer Elin Jones said she would remind Lord Elis-Thomas, who is now an independent AM, "such language is not acceptable".
Ms Jones said she was "satisfied" he "did use the term 'right wing shits".
Lord Elis-Thomas, the AM for Dwyfor Meirionnydd, confirmed he would not be sanctioned but declined to comment further.
The comment was made during a debate in Cardiff Bay on a proposed new prison in Port Talbot.
Responding to Mr Price on Tuesday, Ms Jones wrote: "Although I didn't hear the comment at the time, and it doesn't appear in the Record of Proceedings, after consulting with other who were present, I am satisfied that Dafydd Elis-Thomas did use the term 'right wing shits' from his seat.
"I will be writing to Dafydd Elis-Thomas to remind him that such language is not acceptable and and that is shouldn't be used in the Siambr [chamber] again."