Public sector pay: Council leaders' sympathy for strikes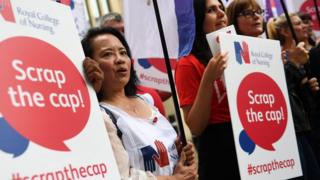 The Labour leaders of the three largest councils in Wales have said they would support strike action over the public sector pay cap.
Cardiff leader Huw Thomas, Andrew Morgan from Rhondda Cynon Taf, and Rob Stewart from Swansea said their staff would be justified in taking action.
They have called on the UK government to fund salary increases.
It follows the partial lifting of the public sector pay cap of 1%, with extra cash for police and prison officers.
Police officers are to get a 1% rise plus a 1% bonus, with prison officers getting a 1.7% rise - both funded from existing budgets.
The Welsh Government could lift the pay cap for those services under its control, such as health and education, but has refused to do so unless extra funding is provided by the UK government.
Public sector pay was frozen for two years in 2010, except for those earning less than £21,000 a year, and since 2013, rises have been capped at 1% - below the rate of inflation.
Speaking at the Labour Party conference in Brighton on Monday, Mr Stewart described the seven years of pay restraint as "outrageous".
He said: "People deserve a fair rate of pay. We have said that for many years.
"People wanting a fair wage for the work that they do is something they should be absolutely entitled to and, if they do not get it, they should be able to protest."
Mr Thomas said: "I would endorse their cause if the UK government does not pay that money."
Meanwhile Mr Morgan said the "priority should be to avoid a strike, but the [UK] government undervalues public sector workers and refuses to fund the pay cap being removed".
Earlier in September, one of the main public sector unions in Wales, the GMB, said industrial action over pay was "almost inevitable".
Since the UK government announced pay caps would be partially lifted, Welsh Labour has been urged by Plaid Cymru to lift the cap for those public services under its control.
'Crocodile tears'
Welsh Conservative local government spokeswoman, Janet Finch-Saunders, said: "This is dangerously inflammatory language from members of a party which has in recent weeks all but advocated breaking the law through illegal strike action.
"What's worse is the fact that these councils could take steps to raise pay independently of strike action," she added, accusing the council leaders of "crocodile tears".
First Minister Carwyn Jones told BBC Radio Wales on Monday: "I can well understand people's anger that they feel their skills have not been recognised and that they have not seen the pay increases others have received.
"If the money is put on the table by the UK government to end the pay cap, we have said we would end the pay cap in Wales.
"Without the money it is very difficult for us - it means money has to come from front-line services."