Two NHS contracts referred to fraud watchdog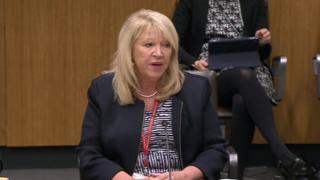 Two contracts awarded by a health board have been referred to a fraud watchdog in the wake of a critical audit report.
Maria Battle, chair of the Cardiff and Vale University Health Board, apologised over "potentially unlawful" contracts for human resource services.
She told the assembly's Public Accounts Committee on Monday that the report was "deeply disturbing".
Auditor general Huw Vaughan Thomas criticised "numerous and significant failings" by the board.
Mr Vaughan Thomas said the health board failed to comply with its own procurement requirements when it awarded consultancy contracts to RKC Associates Ltd in November 2014 and June 2015, and failed to ensure the integrity of the procurement process that led to an additional contract being awarded in February 2016.
The health board paid the company £290,000 for HR leadership services over 17 months. Its then owner Raj Chana was later appointed as HR director when the board failed to fill the job after an advert.
'Unacceptable'
In a written submission to the assembly committee, the health board said that it had held an internal review of all manual payments made to individuals between 2014 and 2017, for invoices in excess of £5,000.
A total of 227 were reviewed. Ten were commissioned "without procurement oversight", with lead officers reminded of procurement rules.
"Two of these contracts have been referred to NHS Counter Fraud Service Wales," the written submission added. It was not clear what the contracts related to.
Ms Battle told the committee: "I would like to apologise to elected members, to our dedicated, and hard working staff and to the public for the failings identified within the report.
"It is unacceptable, deeply disturbing, and we fully accept the reports findings.
"As a board we've sought assurance as to whether this was a one-off or is it symptomatic of a wider problem.
"The evidence is that this is not symptomatic of a wider problem however there are examples where we should have achieved better compliance."
During the hearing Ms Battle confirmed that she had not been aware of the full detail of the investigation until about three weeks before the report was published - something she said was surprising.
She was asked whether she would have expected that the then chief executive to make her aware of a contract of the size that was being awarded.
Professor Adam Cairns served as chief executive of the health board until he was appointed to be CEO of the Al Wakra Hospital in Doha in September last year.
"Yes, I would have expected that," said the health board chair.
"I wouldn't say it was a breakdown of relationship. I would say I would have expected to have been informed," she added.