'In Wales there is no PFI and no privatisation'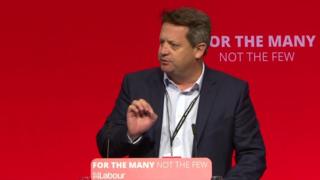 The minister seemed clear enough. "In Wales," Alun Davies told the Labour conference, "there is no PFI and no privatisation".
It went down well at a conference where shadow Chancellor John McDonnell won a standing ovation for his pledge to bring PFI contracts, used heavily in the Blair/Brown era, in-house. But is "Labour's education minister in Wales" (as he introduced himself) right?
Mr Davies talked about Labour in Wales trying to turn the conference slogan into reality. "And that is what's driving us as a government in Wales, he said. "Record exam results, increased funding for schools and school standards, the biggest school-building programme in our history - and in Wales there is no PFI and no privatisation."
Working out whether Wales is seeing "record exam results" is probably above my pay grade but the latest GCSE figures are here. I have though been talking to a few people about PFI.
It's true that new PFI deals in the NHS in Wales were ruled out during the 'One Wales' coalition with Plaid Cymru 10 years ago. But the idea there is "no PFI" ignores the legacy of these schemes, in the NHS and elsewhere; a legacy that Cardiff University's Wales Governance Centre calculates is costing around £100m a year.
One of the biggest is a road familiar to assembly members, Lloyd George Avenue in Cardiff. (The Welsh Government has attributed this scheme to the Cardiff Bay Development Corporation, a quango set up by the Conservatives in 1987).
'Cautious'
Ed Poole of the Wales Governance Centre says the most expensive PFI projects are the A55 in Anglesey and the Wrexham Recycling Plant. He told me: "It's correct that the use of PFI projects in Wales has been limited compared with England and Scotland. But they still are a budget driver."
He added: "From the early years of devolution Wales was always much more cautious towards PFI than England and Scotland: in fact the 'One Wales' coalition agreement banned any additional PFI schemes for the NHS.
"In hindsight, and particularly with the cost of traditional borrowing at historically low levels for a number of years now, this approach was very prudent. "So Welsh Government administrations of all stripes have a good story to tell. But it's not correct that there is 'no' PFI in Wales."
There's more information in the centre's report here.
The Welsh Government argues that more than 90% of Welsh PFI projects are not their responsibility. It's announced what it calls "a mutual investment model" it views as an innovative alternative to PFI.
Opposition parties were swift to notice Mr Davies's comments. Conservative AM Janet Finch-Saunders said: "Alun Davies' comments were as arrogant as they were ignorant.
"The reality is that Welsh Government are still tied up in 23 PFI contracts, not to mention that Welsh local authorities collectively owe £1.5bn in PFI agreements - and that's before you consider the millions owed by health boards to these schemes.
"I would invite Mr Davies to distance himself from his cavalier assertions, and to take a more transparent approach to public finances in future."
'Open'
So will the Welsh Government put into practice John McDonnell's ideas?
Finance Minister Mark Drakeford told the Senedd on Wednesday: "There have been only 23 schemes in Wales and very, very little new PFI in the devolution era, and of those 23, 21 of them are not the direct responsibility of the Welsh Government, belonging to local authorities and to the health service.
"But we are absolutely open to keeping under continual review whether or not those arrangements could be improved and a better deal secured for the taxpayer, and when we have the next Labour government, then our ability to do that will be much enhanced."
Mr Davies put his own conference remarks into context: "It's all historic data. We inherited most of those schemes and brought PFI to an end. And we are not privatising public investment and public services. And that's the policy that matters and that's the policy I described."
Plaid Cymru AM Adam Price said: "Wales's PFI bill costs the Welsh Government £100m a year and over £2.8 billion over their lifetime, so Alun Davies' claim that Wales is free of PFI is simply wrong.
"From PFI to [the NHS] pay cap to tuition fees - the Labour Party seems to be saying one thing in Brighton, or Westminster, but is pursuing entirely differently policies in Wales."
That's a point I was keen to explore with the Labour leader, Jeremy Corbyn, but unfortunately his office cancelled our conference interview due to a lack of time.
I'm now off to Manchester for the Conservative conference. You'll be able to read about my interview with the prime minister here on Monday.