Media has 'work to do' explaining devolution - Huw Edwards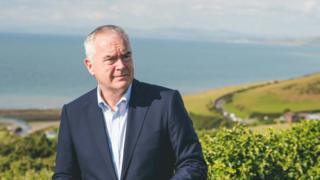 The media has "a lot more work to do" in explaining devolution in Wales, BBC presenter Huw Edwards has said.
Speaking on the 20th anniversary week of devolution, the broadcaster said there were ongoing "battles" when explaining who is in charge of what.
However, Mr Edwards said people's understanding was on the increase.
He said: "If you ask who runs the NHS in Wales more people now realise it's the Welsh Government - five years ago I think it would be a different picture."
In 1997, Wales voted by a narrow margin to create a National Assembly for Wales.
The BBC News at Ten presenter said while most people had largely accepted devolution was here to stay, further clarity was needed on which government provides what.
He said it was down to journalists to explain the responsibilities of those in power in Cardiff Bay and what politicians in Westminster deliver.
But he said the "British" media sometimes failed to understand there were different systems in place, and said he had to "remind" colleagues of the differences "every day".
"I often see coverage in bits of the press and media which seems to suggest the journalist hasn't quite clocked the fact we have different systems in place," he said.
In his one-hour documentary, 20 Years of Power with Huw Edwards, the broadcaster explores the changes in Wales since the devolution vote, in areas including health, education, the economy and Welsh language.
Mr Edwards said there were two broad perspectives on devolution - those who accepted the national assembly and Welsh Government are here to stay, and those who question whether it had "done a good job".
But he said he believed "Wales would look very different today" if people had voted against it.
He said: "I think people do ask questions about performance. There are certainly some notable achievements - when you look at free prescriptions and transport for the elderly.
"But there are questions about education standards, there are questions about standards of healthcare too.
"How it's doing is a separate question to whether they think this system is best for Wales."
'Brexit headache'
On Brexit, Mr Edwards said he believed there were challenges ahead for the Welsh Government, including on whether powers currently held in Brussels are returned to Cardiff Bay.
"The Brexit process is a big headache for the Welsh Government and the national assembly," he said.
"There'll be lots of powers coming back from Brussels. Westminster wants to clearly hold on to quite a few of those powers, or at least take its time to decide when those powers should be handed over".
"That presents an issue here [in Cardiff Bay]."
20 Years of Power with Huw Edwards is on BBC One Wales at 21:00 BST on Wednesday 20 September.