Lib Dems defend banning media from party conference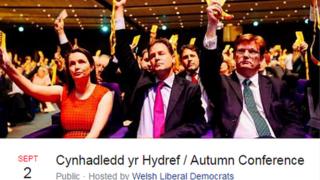 The first word of their values statement is "open". And they have a new UK leader to sell to the voters.
So why did the Welsh Liberal Democrats decide to hold their autumn conference in private?
The two-day gathering attended by the party's new UK leader Sir Vince Cable was even advertised as "public" on their Facebook page but public, press and potential new members were clearly not welcome.
The decision was taken apparently by the Welsh party's conference committee. Not everyone was happy with the new hush-hush approach. Former AM Peter Black protested on Facebook: "Entire @WelshLibDems conference this weekend held in camera. When did we decide talking to ourselves more important than talking to voters."
That seems a fair enough question, so I put it to the party.
'Not unusual'
A Welsh Lib Dem spokesperson said: "This was a members' conference organised to discuss changes to the party's constitution, including to who can run for the leadership.
"This is not unusual - for example, votes on coalition deals have also been exclusive to members. We were delighted to welcome Vince to conference to meet party members. We note the irony in this story that BBC have traditionally refused invitations to attend autumn Conference."
Perhaps my invitation to that one was lost in the post. The joy of reporting the Liberal Democrats is that one is seldom more than a week or so from a party conference of some description and their autumn federal conference takes place in Bournemouth later this year.
I'm told that the Llanelli gathering did indeed agree new rules for electing a new Welsh leader, the post left vacant by Mark Williams's general election defeat and the view of acting (and previous) leader Kirsty Williams, "who is currently unable to provide the commitment the role needs beyond September", according to the party's constitutional review panel.
So the new leader no longer has to be an MP or an AM. Instead, the post will be opened up to all those who have been approved as candidates, either for Cardiff Bay or Westminster. I'll try to bring you an update on the runners and riders from Bournemouth. If they let me in.