Slow NHS complaint handling needs penalising, Tories say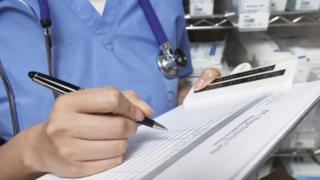 Nearly half of NHS complaints in Wales last year were not handled within the target time, it has emerged.
Figures show 41% of nearly 6,000 formal complaints in 2016-17 were not handled within 30 working days, with the figure for Cwm Taf nearly 75%.
The Welsh Conservatives said health boards should be penalised for being slow to handle complaints.
Cwm Taf said compliance was improving, while the Welsh Government said patient satisfaction remained "extremely high".
The figures were given by Health Secretary Vaughan Gething in answer to a written question from Conservative AM Janet Finch-Saunders.
They refer to complaints made directly to the health boards and handled under their Putting Things Right process.
After Cwm Taf, the Hywel Dda board serving south west Wales had the next worst response rate at 67%, while the best was Betsi Cadwaladr in north Wales with 24%.
The Welsh Conservatives' health spokeswoman Angela Burns said there was a risk of patients "losing all confidence in the system".
Ms Burns said: "It's clear from the data that healthcare remains a postcode lottery and that far too many complaints are not being handled quickly enough.
"We need clear and inviolable legislation so that patients can expect their concerns to be dealt with within a statutory time-frame, or we risk service users losing all confidence in the system."
A Welsh Government spokesman said: "Every complaint made to the NHS is taken seriously, and we expect health boards to investigate them thoroughly and in a timely manner.
"We value feedback and encourage concerns to be raised as soon as possible so they can be dealt with quickly and easily, so services can continuously learn and improve."
However, the spokesman said patient satisfaction with the NHS across Wales remained "extremely high".
"It's important to remember that every year the Welsh NHS deals with around 18 million contacts in primary care, three million outpatient attendances each year and one million A&E attendances and 750,000 admissions to hospital," he added.
Cwm Taf University Health Board said it took the handling of complaints "extremely seriously and aims to deal with all concerns in an open and honest way".
"A number of improvements have been made in the last 18 months in the management of concerns within the health board," it said in a statement.
"A training programme for front line teams has enabled staff to manage concerns where and when they arise allowing a timely response.
"Our annual report shows that compliance with the 30 working day target increased and we are working hard to continuously improve on this.
"However, in complex cases, needing robust investigation, the time taken can often be longer.
"The health board currently has no complaints that have been open longer than six months."