Welsh Government review into conflict of interest with TV firm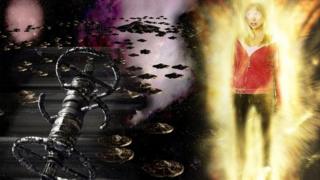 Wales' top civil servant has called a review to see if rules were broken when a senior Welsh Government official was seconded to a TV firm.
It will examine the Welsh Government's handling of a potential conflict of interest when Natasha Hale went to work for production company Bad Wolf.
She was deputy director of sectors and business at the time.
A spokesman for Permanent Secretary Dame Shan Morgan said it would be "inappropriate to comment further".
Bad Wolf, a firm set up by former BBC TV executives in 2015, said Ms Hale closely followed all official advice.
The firm, based in south Wales and Los Angeles, was loaned just under £4m by the Welsh Government.
In September 2016, while still a civil servant, Ms Hale became a co-director and shareholder of Creative Screen Alliance Wales Ltd, along with Jane Tranter, a co-founder of Bad Wolf.
In December, the Welsh Government said Economy Secretary Ken Skates had approved a business case for a collaboration pilot project between the Welsh Government and the organisation.
Companies House records show an application has been made to dissolve Creative Screen Alliance Wales and there is no evidence it was ever involved in any production.
In May, when she was no longer a civil servant, Ms Hale and Ms Tranter set up another new firm, Screen Alliance for Wales Ltd - a not for profit organisation for training - which is still operating.
Asked if the Welsh Government was content for Ms Hale to be a director and shareholder of the private company, set up while she was still technically a civil servant, a spokeswoman said: "We were notified of this and advised Natasha to stand down as a director and shareholder whilst on secondment."
Ms Hale, founder and chairwoman of the Welsh Music Foundation, was head of creative industries at the Welsh Government from January 2011 to April 2013.
However, a Bad Wolf spokesman said: "Natasha Hale closely followed all official advice from Welsh Government in relation to her secondment and her role in Creative Screen Alliance Wales.
"All correct HR and compliance procedures were adhered to throughout and she will happily comply with any review."
TV giants Sky and HBO have both invested in Bad Wolf and it has projects under way including the £25m production A Discovery of Witches, which will be filmed in Cardiff.
Recently, it emerged three directors of Bad Wolf were paid packages worth a total of £1.8m, despite it running at a loss.
Conservative AM Suzy Davies wrote to Dame Shan Morgan about the issue, saying "there are very reasonable questions to which concerned taxpayers are expecting answers".
A spokesman for Dame Shan Morgan said: "The Permanent Secretary has initiated a review into the management of any potential conflicts of interest relating to a former Welsh Government civil servant and a private company."