NHS: Labour accused of backing 'eye-watering' pay for bosses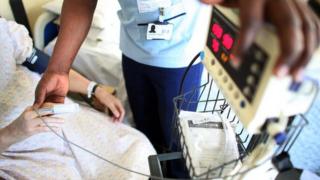 "Eye-watering" salaries for top NHS bosses are an affront to those working on the "cash-starved frontline", the Welsh Conservatives have said.
They criticised the Welsh Government for approving 12 cap-busting pay deals in the past three years.
Welsh Tory leader Andrew RT Davies said it was "unsurprising" four out of the seven boards had run at a loss.
The Welsh Government said pay reflected the responsibilities and experience of those in "very senior roles".
Recommended pay rates for senior NHS managers in Wales range from a minimum of £85,850 to a maximum of £202,000 for a chief executive and are set based on the size of the organisation and range of responsibilities.
Any plan to advertise a role paying more than the maximum has to be backed up by a business case submitted to the Welsh Government for approval by the NHS chief executive for Wales.
The Conservatives published a letter from Health Secretary Vaughan Gething to Mr Davies confirming there had been 13 occasions since September 2014 when health boards asked permission to do this.
Five came from Betsi Cadwaladr, three from Cwm Taf, two each from Aneurin Bevan and Cardiff and Vale and one from Hywel Dda.
All were approved, apart from one of Cwm Taf's.
Mr Gething wrote: "These are very senior roles within the NHS in Wales and whilst we need to ensure that pay is carefully controlled and represents value for money, we also need to recognise the critical nature and breadth of responsibilities of these highly experienced individuals in providing a high quality, safe and effective NHS for the people of Wales.
"Health boards and trusts are required to publish the pay rates of their executive and senior posts each year as part of their annual accounts to ensure there is transparency about the rates paid to the individuals who hold these posts."
Mr Davies said: "Four of Wales' seven health boards have operated on a budget loss for the past three years, and it's unsurprising given the eye-watering sums they are willing to throw at new appointments.
"While I accept that health boards have to remain competitive to attract the best talent, many working on the cash-starved frontline will see this as an affront given the millions Welsh Labour have cut from their budgets."
A Welsh Government spokesman dismissed the Conservatives' link between managers' pay and board deficits as "nonsense".
"Despite significant cuts to our budget by the UK Government, spending on health and social care services in Wales is the highest it has ever been," he said.
"Accounting for nearly half our total budget, spending on health and social care per person is higher in Wales than in England."
Allison Williams, chief executive of Cwm Taf, said: "Both posts approved within Cwm Taf UHB are very senior posts which are filled by medical doctors. The pay structure for doctors differs [from that for other staff] and these requests were made to reflect this."
Betsi Cadwaladr said it "had to acknowledge the prevailing salary rates necessary to attract candidates in an international recruitment market".
Cardiff and Vale health board said: "We follow the correct process with Welsh Government for seeking approval of those [salaries] outside of the cap and each is decided upon its merits."