Bank branches important resource, Plaid Cymru says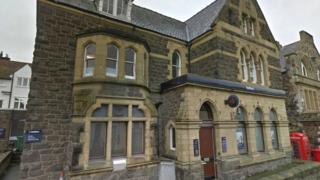 Rural bank branches need support if any national development bank is to succeed, Plaid Cymru has claimed.
A think tank report has warned that "no viable structures currently exist" to distribute money from such a bank.
The Public Policy Institute for Wales (PPIW) said more work was needed to assess how to fund a development bank, and whether it was viable.
Plaid AM Simon Thomas said commercial bank branches were "expensive to maintain" but an "important resource".
The Welsh Government is launching a Development Bank for Wales, with its headquarters in Wrexham, aimed at making it easier for small firms to borrow money.
Plaid Cymru has said the bank could act as a hub for its proposed network of locally-owned "people's banks", filling the gap left by the closure of commercial branches, particularly in rural areas.
Figures obtained by BBC Wales in 2016 showed that nearly 130 branches had closed over five years across Wales, while more than 30 others have closed or are closing in 2017.
The PPIW recognised that bank branch closures were having a "negative impact" on people and businesses in Wales.
But it added: "Even the most extensive public banking model, opening community banks, would not be able to replace the branches that have been closed in Wales in recent years."
Mr Thomas said it showed the need for action from the Welsh and UK government to save the remaining bank branches.
"It is unacceptable that the bank network is being stripped from rural Wales," he said.
"While bank branches are expensive to maintain and are used by fewer people in the past they are still an important resource."
The Plaid AM pointed to research by the Federation of Small Businesses that firms in rural areas were more badly hit by branch closures than those in urban areas, being more likely to need access to cash.
"The Labour Government in Cardiff Bay should be looking at how other financial institutions like Finance Wales and credit unions have a role to play," he added.
The Welsh Government has been asked to comment.