Election reformers aim to discover why thousands fail to vote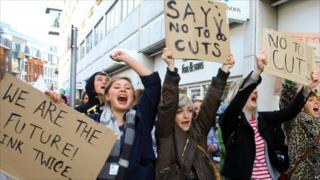 Thousands of "missing voices" in Wales need to be heard at election time, campaigners have said as they launch a survey on why people fail to vote.
Turnout at the 2017 general election in Wales rose to just under 69% but from 1945 to 1992 it was nearer 80%.
Electoral Reform Society Cymru director Jess Blair said the aim was to "break down barriers that stop people voting".
Theories range from parties being out of touch with youngsters to practical issues for people with disabilities.
"We are in an age of fundamental change which will affect every single person in the country," Ms Blair said.
"The recent general election in June saw a 3% rise in turnout in Wales from 2015 and reports suggest that includes a significant peak for young voters.
"Yet despite this increase there are thousands of people in our society who have no voice on any major decisions that are being made on their lives and we need to find out why."
Across the age groups, UK turnout in June's election ranged from 57% of 18-19-year-olds to 84% of over-70s, according to a YouGov survey.
But the National Union of Students Wales' deputy president Carmen Smith denied any suggestion that young people were not interested in politics.
"The truth is that we care deeply about the decisions that politicians make, and we want them to listen to us," she said, calling for the political system to become "more engaging and accessible" to young people.
Disability groups will also be involved in the survey.
Emma Sands, public affairs manager for RNIB Cymru, said many blind and partially sighted people were "worried" about the practicalities of voting.
"Many people have moved to postal voting [from voting in person], but often this isn't accessible for secret voting either," she said.
"We know that many people aren't confident in being able to vote in secret at a polling station and what we just don't know is if this means that on the day, people actually don't turn out."
The Welsh Assembly - whose election turnouts have never exceeded 46% - will have powers over the running of its own elections from 2018.
The 2016 EU referendum saw the highest turnouts for a UK-wide vote this century, with figures of about 72% recorded for both Wales and the whole UK.