General Election 2017: UKIP Wales' manifesto at-a-glance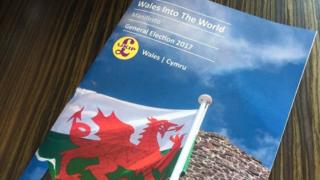 UKIP has published a separate Welsh manifesto, in common with other political parties, for the 2017 general election.
You can find out more about UKIP's UK pledges here - this guide looks at the focus of the Welsh manifesto.
---
Key messages
The manifesto is entitled "Wales Into The World".
"Make no mistake: this is a Brexit election," a preface to the manifesto says, claiming Theresa May wants to "pull the wool over the eyes of the British people" and is "pretending" to be a Brexiteer.
"Wales needs to safeguard the interests of future generations. We need an outwardly looking Wales ready to make the most of the opportunities that a global economy creates," the preface, written by UKIP group leader Neil Hamilton, said.
---
Key pledges
limit the total cost of running the Welsh Government, the assembly and local councils to 2% of the value of Wales' economy
allow parent governors to request an Estyn inspection of their school
give mental health services parity with physical health services
scrap police and crime commissioners and creating a national commissioner
support the Swansea Bay tidal lagoon
revise the Barnett formula, used to distribute funds from Westminster to the Welsh Government
---
Economy
"Wales has been totally abandoned by mainstream politics," says the UKIP Wales manifesto.
"For many life can be tough."
It says that, outside Cardiff, the idea of a "metropolitan utopia that offers highly-paid professional careers is an alien concept to most".
The manifesto says Wales needs to move away from a public sector and subsidy-based economy.
As well as UK-level pledges to raise the personal allowance to £13,500 and raise the threshold for paying 40% income tax to £55,000, Welsh pledges include:
supporting the devolution of corporation tax
allow the assembly to lower taxes on businesses, particularly "in areas such as the Welsh valleys and de-industrialised communities"
---
Education
Education in Wales is under the control of Welsh ministers and the assembly. UKIP would need to lead or have a role in the Welsh Government to put its aims into practice.
Pledges in the manifesto include:
end the forced closure of community schools
support the establishment of new grammar schools and technical colleges
ensure class sizes are capped, "especially" in primary schools
support the creation of a national schools fund to refurbish Victorian-age school infrastructure
---
Health
The NHS is also devolved.
The party says that it is committed to an NHS free at the point of delivery, and says a public service should not "have a monopoly on public expenditure to the detriment of all other services".
UKIP says the NHS "cannot be a monetary black hole" and managers who run it "should not be permitted to continue to blame their failure to perform on a lack of funding".
The party promises to:
establish a "limited number" of primary care hospitals across Wales
ensure low-paid NHS staff who use private cars for work are reimbursed in full for their mileage
ensure students receiving NHS bursaries for university courses work for a three-year minimum within an NHS setting following graduation
ensure all those travelling to Wales for work or pleasure maintain adequate travel insurance arrangements to reimburse the NHS
set-up 'one stop' cancer diagnosis and treatment regional centre to lead fight against cancer
---
Democracy
The manifesto pledges to:
reduce the costs of councils by encouraging them to restructure back-office functions and merge departments, and replace cabinets with a cross-party committee system
oppose any increase in the number of Welsh AMs
establish constituency offices for Welsh assembly members within existing public buildings to cut taxpayers' costs
introduce "an element" of proportional representation in local council elections
restrict the use of postal voting to those who cannot attend a polling station
---
Housing
Pledges include:
giving local people a greater say on major planning decisions through legally binding referendums
encourage new ways of building affordable homes
prioritise local people when allocating council and social housing
ensure councils meet their obligations under the armed forces covenant to house returning and retiring armed forces personnel
scrap lettings and management agents' fees to tenants
---
Security
The manifesto pledges:
the merger of the four Welsh police forces into a single all-Wales service, organised by local authority area
scrap police and crime commissioners and create a post of national commissioner responsible to the home secretary but accountable to an assembly committee
create of 500 more front-line policing posts across Wales
oppose any plans that see police officers routinely carrying firearms
---
Agriculture and energy
UKIP promises to be the voice of Welsh farmers and fisherman in the post-Brexit era.
The manifesto's pledges on agriculture, which also largely cover areas that are devolved, include:
to devolve current EU powers over Welsh farming and fishing to the assembly
install a 200-mile exclusive economic zone under UK control
provide suitable and sustainable funding for farming, financed by savings from leaving the European Union
remove unnecessary EU restrictions that make small local abattoirs unviable
require foreign trawlers to apply for a fishing permit to have access to Welsh waters
On energy, the manifesto says relying on wind-power is "not sensible". It pledges:
an energy mix that is based around proven forms of reliable renewable energy, and to support the tidal lagoon project in Swansea Bay
that UKIP would prioritise "energy security"
---
Brexit
Wales does not need to accept free movement of people, the manifesto says.
UKIP argues that Wales should have the freedom to control its own borders and deliver an immigration policy in-line with what the party says are the wishes of the Welsh electorate.
"Wales exported more to the EU than it imported in 2015," the manifesto said. "Wales does not need EU membership to trade with it."
Wales and the UK do not need a trade agreement with the EU, but UKIP claimed a "bespoke agreement on our terms" is likely.
The manifesto says the party would ensure Brexit negotiations give control over VAT, allowing the party to remove VAT from hot-takeaway food, sanitary products and energy bills.