General election: UKIP not contesting all Welsh seats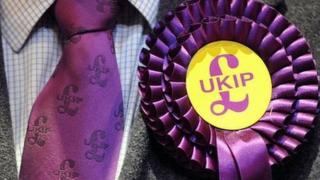 UKIP has said timing and money are the main reasons it is not standing in all 40 Welsh seats at the general election.
The party will field about 32 candidates in June. In Clwyd West, local members chose not to challenge the Brexit Tory minister David Jones.
UKIP AM David Rowlands said: "Any small party would find it difficult to keep funding these elections."
UKIP has no MPs but won 13.6% of the vote in Wales in 2015, third highest behind Labour and the Tories.
"It's simply the timing of it, to be quite honest with you," Mr Rowlands told BBC Wales.
"It's £500 per candidate," he added, referring to the required deposit which is only repaid if a candidate receives at least 5% of the vote.
"You're talking about £20,000 overall, plus obviously the leaflets," which he estimated were around £700 for each candidate.
"You're talking about quite sizeable amounts of money to be raised in a very short period of time," the South Wales East AM said.
While UKIP stood in all 40 Welsh constituencies in 2015 but did not win any seats, at the 2016 Welsh Assembly election it won seven seats due to proportional representation, with 13% of the vote for the regional lists.
Sorry, your browser cannot display this content.