US and Wales should trade freely, Carwyn Jones says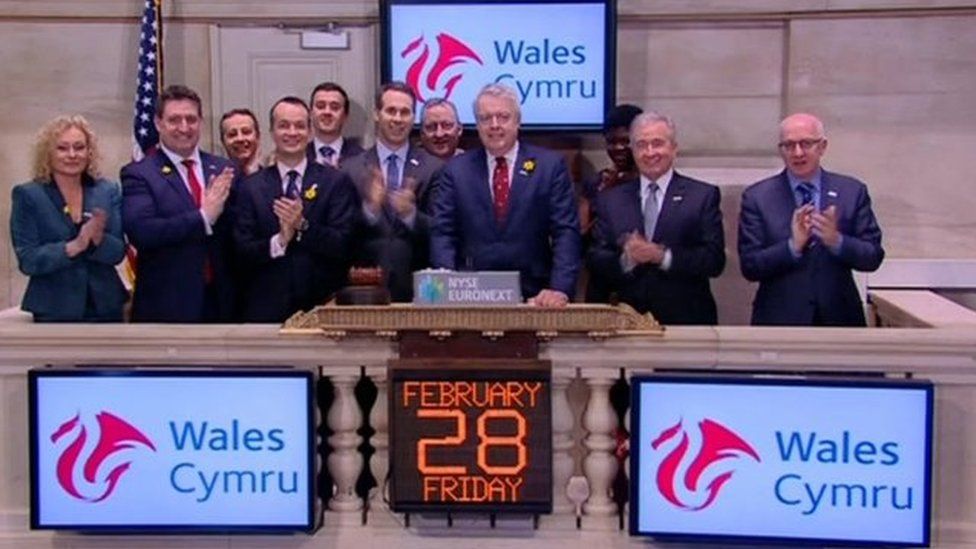 Wales and the US should remove barriers to trade under their "special relationship", the first minister has said as he begins a trade mission.
Carwyn Jones will urge business leaders and politicians in Washington and New York to invest and expand in Wales.
Wales had "long been a destination of choice" for US firms, he said.
But the Conservatives said the value of Welsh exports to North America had fallen by 48% since Mr Jones's first US trade mission in 2012.
The Welsh Government said with more than 250 American-owned companies in Wales, the US accounted for almost 40% of inward investment projects.
"For Wales, the special relationship is about building on the strong cultural and trade links that already exist between our two countries," Mr Jones said.
"In my discussions with American businesses, politicians and diplomats, I will be raising the importance of further developing free trade between our countries and the removal of barriers to make trade between us easier and quicker."
The first minister has spoken of the need to "sell Wales to the world... like never before" in the wake of the referendum vote for Brexit.
In November, he stressed the continuing importance of the US as a trading partner following Donald Trump's election as president, which raised fears of fresh barriers under the Republican victor's pledge to "put America first".
The Welsh Government currently has offices in Washington, New York, San Francisco, Atlanta and Chicago.
Speaking ahead of his flight on Tuesday, Mr Jones promised a "strengthened network" of offices in the US and a "permanent presence" in Canada.
The trip includes a St David's Day reception on Washington's Capitol Hill for key political figures and investors, and a reception in New York geared towards promoting the Welsh tourist industry.
Welsh Conservative leader Andrew RT Davies said he wanted to see "tangible evidence that the first minister has a plan to capitalise on promising signs for trade with the US, not another speech trashing our post-Brexit prospects".
"Trade missions are an important opportunity to secure lucrative opportunities for Welsh businesses, but there is very little evidence that the Welsh Government is actually making a positive difference," he said.