Say sorry for Brexit economy warnings, says Andrew RT Davies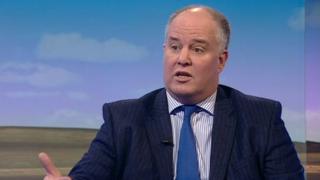 People who campaigned for the UK to stay in the EU should apologise for misleading the Welsh public, the leader of the Welsh Conservatives has said.
Andrew RT Davies told BBC Wales that Remain supporters got it wrong when "prophesying" an "economic collapse" due to Brexit and should now say sorry.
He said Welsh farmers have had "an extra £30m on the table" after the drop in the pound following the Brexit vote.
"Exports are booming off farms in Wales," said Mr Davies.
"I haven't heard any of the detractors say 'sorry, we got our economic calculations wrong'".
Speaking to The Wales Report, Mr Davies said: "Let's have some apologies from the people who misled the Welsh public in that referendum."
In the June 2016 poll 52.5% of voters in Wales backed leaving the EU, with 47.5% supporting Remain.
Mr Davies told the programme: "Everyone who was prophesying the leave vote on June the 23rd was saying we'd have an economic collapse, we'd have record unemployment and the country would go to the dogs.
"We haven't had that. Let's have some apologies from them."
The Wales Report is on BBC One Wales at 22:40 on Wednesday 15 February.