Shadow Welsh Secretary Rees: Labour should back Corbyn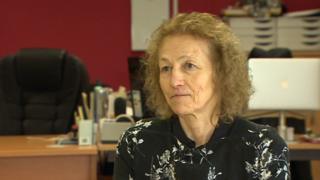 The Labour party should be supporting leader Jeremy Corbyn in any way it can, the new shadow Welsh secretary has said.
Christina Rees is the fifth person to be the Labour party's key spokesperson on Wales in Westminster since 2015.
Ms Rees said she hopes there will not be a sixth before 2020.
She as speaking to BBC Wales for the first time since she was appointed on Thursday after former Shadow Welsh Secretary Jo Stevens resigned.
Ms Stevens resigned over the party's insistence that MPs vote for the bill to trigger Article 50 - the mechanism that will start Brexit.
'United'
Ms Rees said: "He's our leader. He's been democratically elected.
"As far as I'm concerned we should be behind the leader and supporting him in anyway we can, because that is the structure of the Labour party."
Ms Rees said she would be playing no part in trying to unseat Mr Corbyn: "I shall be working for unity in the party.
"And we have been united since the summer."
Asked if there would be a sixth shadow Welsh secretary before 2020, when a Westminster general election is due to take place, she said: "I hope not."