Welsh Assembly election 2016: Conservatives top spenders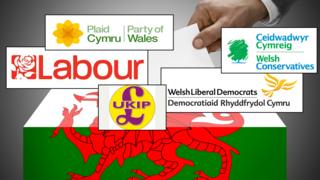 The Conservatives were the biggest spenders in the 2016 Welsh Assembly election campaign, figures published by the Electoral Commission have shown.
Just over £1.26m was spent by 17 parties and two non-party bodies, compared to nearly £900,000 in 2011.
The Tories - who came third - spent £396,406, up 40% on 2011, with Labour second highest on £255,806, up 67%.
Plaid Cymru and the Lib Dems had been previously named as the next biggest spenders, with £209,733 and £196,143.
As the only two organisations spending more than £250,000, the Conservatives and Labour had been given more time to submit details of their spending, with the totals from other parties having been published in September.
The highest spending non-party organisations were the anti-racist group Hope Not Hate with £17,151 and public services union Unison, which spent £6,644.
The final figures showed that Labour - which won 29 of the 60 Senedd seats - had the lowest cost per AM elected at £8,821.
UKIP - which spent £70,749 and won seven seats - was next lowest at £10,107 per member elected.
The Greens (£59,903) and the Women's Equality Party (£37,575) were the next biggest spenders but neither party won any Senedd seats.
The Conservatives lost three of their 14 seats, with their resulting 11 members costing £36,036 each in terms of campaign spending.
A party spokeswoman said: "The Welsh Conservatives take assembly elections very seriously and this is reflected in the expenditure."
The Tories were also the top spenders in 2011 with £283,269, when Plaid Cymru was second with £173,139 and Labour third on £153,009.
In the 2007 election, total spending had been higher at £1.23m, up from just over £780,000 in 2003.