R&D funding should be shared across UK, Welsh ministers say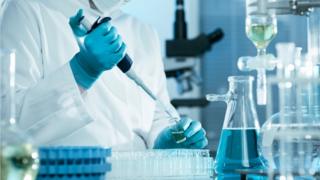 Wales must have a share and a say in the way billions of pounds worth of UK funding for research and development is spent, the Welsh Government has said.
UK Research and Innovation (UKRI) is being launched to manage the cash.
Education Secretary Kirsty Williams said the benefits must be felt in areas outside the "golden triangle" of London, Oxford and Cambridge.
The UK government said it was working closely with the devolved nations to create UKRI as a "unified voice".
UKRI will manage around £6bn a year of public funds, bringing together the seven Research Councils, Innovate UK and research funding from the Higher Education Funding Council for England (HEFCE).
In November, Prime Minister Theresa May told business leaders the UK government would spend an extra £2bn a year on research and development (R&D) by 2020.
Writing on the Times Higher Education website, Ms Williams and Skills Minister Julie James said the promise of extra cash was "most welcome", but it raised questions of who would benefit.
'Local strengths'
They called for all four UK nations to be represented on the board of UKRI, and for sums to be earmarked for R&D spending in each nation.
"We must foster development in areas of lower economic growth through research which focuses on local strengths that can be exported, but not taken away," they added.
"We need to exploit local advantages, whether they are accumulated skills in steel making, online insurance or aviation technologies."
The ministers claimed the UK had traditionally underspent on R&D compared to other countries, and highlighted the Ser Cymru (Welsh Stars) scheme for attracting leading scientists as the sort of project that could work across the UK.
Ms Williams and Ms James pointed to Finland and Switzerland as countries where regional and federal governments had worked together to promote innovation.
They also spoke of their own co-operation as Liberal Democrat and Labour members of the Welsh Government.
"If we, as representatives of different political parties, can work with other nations to agree on this approach, we believe it should be possible for the UK government to broaden its gaze beyond the Golden Triangle and grasp a more inclusive and productive future," they said.
They suggested the changes could be introduced as amendments to the Higher Education and Research Bill, being considered by the House of Lords.
A spokesperson for the UK government's Department for Business, Energy and Industrial Strategy said: "The UK is a world leader in science and research and that's why we've made a substantial investment in the sector - pledging an extra £2bn a year by 2020/21, the biggest increase in decades.
"We are working closely with devolved nations on the creation of UKRI, ensuring it provides a strong and unified voice in the UK and around the world."