Heart disease progress but more to be done, Gething says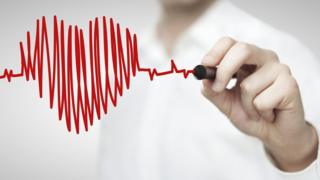 Almost 1,000 fewer people are dying from heart disease in Wales every year but more can be done, the health secretary has said.
Vaughan Gething said he wanted to build on "great progress" as an updated Heart Conditions Delivery Plan is published.
It calls for more work to tackle risk factors such as smoking, drinking and obesity among hard-to-reach groups.
More follow-up treatment and quicker help for those having heart attacks outside hospital was also recommended.
The plan pointed to a "steady decline" from just over 10,000 deaths in Wales from all cardiovascular disease in 2010 to just over 9,000 in 2015.
But it warned that people in poorer areas still suffered more, with premature death rates from heart disease nearly twice as high in Blaenau Gwent at 106 per 100,000 people compared to the Vale of Glamorgan at 56.
'Healthy choices'
"Cardiovascular disease remains a major cause of ill-health and death in Wales," said Judith Paget, chief executive of the Aneurin Bevan health board in south Wales, who chairs the all-Wales Heart Conditions Implementation Group.
"We know that quitting smoking and regular exercise can help reduce heart disease risks, and our plan looks at how we can help people to make healthy choices."
Mr Gething added: "The British Heart Foundation (BHF) recently described Wales as a world leader in cardiac rehabilitation, as we have seen a significant increase in the number of patients receiving the service following a heart attack.
"We are looking to build on this great progress for the future."
Ruth Coombs, head of BHF Cymru, said: "We are particularly encouraged by the Welsh Government's whole-of-life course approach to cardiac care to include children and young people."