Bus services get cash boost after GHA Coaches collapse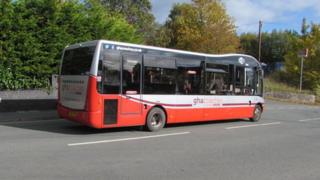 Bus services in north east Wales hit by the collapse of a coach firm will be boosted by a grant of £300,000 from the Welsh Government.
GHA Coaches went into administration in July with the loss of 320 jobs after it failed to pay a tax bill.
The money will allow Denbighshire, Flintshire and Wrexham councils to restore and support lost services.
Economy Secretary Ken Skates said the cash would provide "network stability", with a bus summit planned for January.
"I'm delighted to announce this funding for the local authorities most affected by the liquidation of GHA Coaches," he said.
"I expect to see it used to improve services and choice for the passenger, re-introducing key routes lost and providing network stability.
"I've been clear, however, that we must look at the long-term future of bus travel and how local authorities, bus operators, passenger groups, Welsh Government and others can better work together to ensure services are maintained and improved."
Mr Skates added: "It's in everyone's interests to ensure that a situation like that seen with GHA Coaches does not happen again."
The summit will take place in Wrexham on 23 January.