Ban all children's junk food adverts, Welsh minister says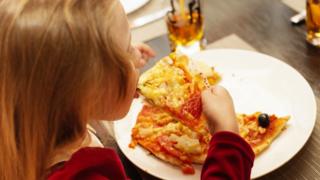 New measures to restrict online junk food advertising to children do not go far enough, a Welsh minister has said.
Rebecca Evans, junior minister for social services and public health, has urged UK Health Secretary Jeremy Hunt to support a ban across all media.
The call follows new rules from advertisers prohibiting the promotion of foods high in fat, salt or sugar in online media aimed at children.
The UK Department of Health said it was working to tackle childhood obesity.
The Welsh Government said the new rules did not go far enough, only prohibiting product advertising in media where children make up 25% or more of the audience.
Ms Evans said: "As we know, children do not just watch children's programmes and channels.
"The same is true for non-broadcast media such as online gaming and video sharing websites, meaning even after the implementation of the new rules many children will continue to be exposed to advertising of unhealthy products."
A Department of Health spokesman said the "current advertising restrictions in the UK are amongst the toughest in the world".
"The new rules from the Committee of Advertising Practice complement our world-leading plan to reduce childhood obesity, backed by the Soft Drinks Industry Levy and our wider sugar reduction programme."