Cairns grilled over Brexit, Wales Bill and his own job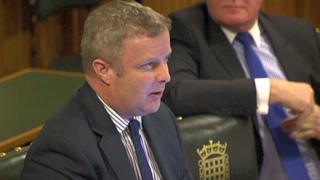 The annual appearance of the secretary of state for Wales before MPs on the Welsh affairs committee is often one that fails to disturb the nation's front pages.
Often, the minister is fed gentle questions by his own side while deflecting hyperbole from his or her own opponents.
On Monday, Alun Cairns was forced to defend his own job from Labour suggestions that he didn't have a lot to do, and had to defend the devolution of education policy from a Conservative MP who didn't think it was working very well.
Paul Flynn, who was briefly Mr Cairns's (part-time) shadow, raised Lord Morris's puzzlement over what Welsh secretaries do these days (compared to, say, the pre-devolution 1970s when Lord Morris was running Wales).
As luck would have it, Mr Cairns had only last week held a "very helpful and fruitful" meeting on the Wales Bill with Lord Morris at the peer's request.
'Important'
Mr Cairns told the committee: "There has never been a more important time over recent times than now for the secretary of state for Wales.
"We've already spoken about the negotiations to leave the European union, an understanding of the Welsh dimension, of the importance that Wales has played on elements of European policy and therefore ensuring that we get the right settlement for the whole of the UK, obviously means getting the right settlement for Wales as well."
But in 2016 no Wales Office minister is ever more than three questions away from one about the Wales Bill. Brecon and Radnorshire Tory MP Chris Davies raised a recent international comparison of pupil performance.
"When we look at the PISA results last week yet again Wales is at the bottom of the queue as far as the UK countries are concerned," said Mr Davies.
"Do you not wish there would be a mechanism in there to take powers back to this place to be able to sort out, just as the Welsh Assembly have the powers to put local authorities under special measures and hospitals into special measures. Don't you think there should be an opportunity for us to do the same?"
'Settled will'
Alun Cairns replied: "No, because education is a devolved matter and I think that people, parents, will be able to express their disquiet at the ballot box and challenge the Welsh Government ministers and the Welsh Government as a whole on their success or failure of any particular area of policy.
"So that's the nature of devolution and people will express their feeling over the policy through the ballot box when it comes to the elections every five years."
A Welsh Labour spokesperson said: "Devolution is the settled will of the Welsh people, it's sad but unsurprising to see Tory politicians advocating overriding a democratic decision in such a way."
Mr Davies, a critic of the Wales Bill, wondered if it had all been worthwhile. "Are you happy with where we are?" he asked. "Do you not regret bringing this forward because this Bill, if I remember correctly, has been quoted as 'the last Bill, the final Bill, the Bill to settle all Bills on Welsh devolution and we don't appear to be at that point, in fact far from it?"
'Simplicity'
Alun Cairns told him: "Well I think that this Bill will bring about certainty. It will bring about clarity. It will bring about simplicity. I want to get to a position where anyone living and working in Wales, or elsewhere for that matter, will understand who is responsible for what.
"This list of reservations is clear as to where the responsibility lies with the UK government. The last thing we want to do is end up in the Supreme Court and that leads to a very challenging relationship between the two governments.
"I think we can relax that Wales has two governments: one that is a Welsh Government that deals with devolved issues and then another that is a UK government that deals with reserved matters. I think that is a positive position to be in and the Bill is about giving clarity over where the boundary lies."
A positive position. Relax. What could possibly go wrong?