Senedd equality form criticised for no non-white Welsh option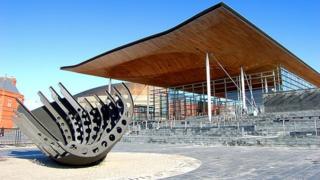 The assembly has been criticised for an equality questionnaire which includes an option for respondents to say they are white Welsh, but not Welsh with any other ethnic background.
The form, included in a survey on whether the public wants to change the assembly's name, is used to monitor who the consultation reaches.
Former Tory election candidate Shazia Awan called the form "insulting".
The assembly said it understood the concerns and would amend the survey.
The equality impact assessment asks people responding to the consultation a range of questions on where they live, their gender, sexual orientation, their age and their disability.
Question eight asks people who fill in the form to describe their ethnic origin, with options including White British, White Irish, and White Welsh.
Several different categories are also provided for Asian or Asian British, Black or Black British, Chinese and people of a mixed background, but none of the other options offer the term Welsh.
However, respondents can write in their ethnic origin in a box marked "Other".
Ms Awan, a Cardiff businesswoman and former Conservative parliamentary candidate, said on Twitter she felt "Welsh Asian & proud", describing the oversight as "pretty shameful".
She told BBC Wales: "It is clear by their own conduct that the National Assembly are detached from the very communities they claim to represent.
"It is incredibly disappointing and insulting that in a public consultation the assembly would have an equalities form widely issued where it is not even an option to identify as non-white and Welsh.
"What kind of message does this send?"
Simon Thomas, a Plaid Cymru AM, called the form a "misstep" in remarks on Twitter.
"They followed the census forms: the ones that in 2001 didn't even allow 'Welsh'! Need to learn," he wrote.
A assembly spokesman said: "The Equality monitoring form used by the National Assembly is based on the categories from ONS 2011 UK census for consistency and comparability of statistical outputs so that we are able to compare the results to the Welsh population.
"However, we understand the concerns raised and will amend our existing survey accordingly which will enable people to express their national identity and their ethnic group.
"The assembly is committed to ensuring that equality underpins all aspects of its work."