Do not repeat calamitous Iraq war decision, says Labour MP Paul Flynn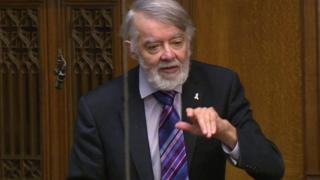 The Iraq war was a "terrible mistake and we must not repeat it", Welsh Labour MP Paul Flynn has said.
MPs are debating whether Parliament should investigate whether ex-Prime Minister Tony Blair misled the Commons in the run-up to the Iraq war.
In July, the Chilcot report said he put the case for military action based on "flawed" intelligence.
Mr Flynn said reforms to Parliament were needed to prevent "such a calamitous decision" being taken again.
The Newport West MP said: "We must reform this House to make sure we can never take such a calamitous decision again that led to the loss of 179 British lives and uncounted numbers of Iraq lives."
SNP MP and former Scottish First Minister Alex Salmond Alex Salmond has drawn cross-party support for his motion calling on the Commons Public Administration and Constitutional Affairs Committee to probe any differences between Mr Blair's public statements in the lead-up to the invasion, and private correspondence with then US president George Bush revealed by the Chilcot inquiry.
Opening the debate, Mr Salmond said it was important to find "a parliamentary process by which a prime minister who grievously misled this House, and people, into an illegal war can finally be held to parliamentary account".
Labour Cynon Valley MP Ann Clwyd said she was a frequent visitor to Iraqi Kurdistan and had been in the Commons in 2003.
"The Kurds believed, prior to 2003, that chemical weapons were going to be used against them again," she said.
"It wasn't simply an idea that Tony Blair had in his head. We had a full debate in this parliament in 2003, and I amongst others voted for the action."
Labour leader Jeremy Corbyn only imposed a one-line whip on his MPs for the vote on the SNP bid, meaning they are not obliged to attend, and could back Mr Salmond's motion without fear of sanction.
After the Chilcot report's publication, Mr Blair apologised for intelligence assessments being "wrong".
But he defended the decision to go to war, saying "there were no lies. Parliament and cabinet were not misled. There was no secret commitment to war. Intelligence was not falsified and the decision was made in good faith".