All horse slaughterhouses should have CCTV, says Plaid MP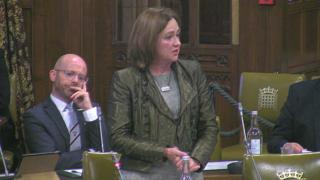 Slaughterhouses for horses and other animals in England and Wales should all have CCTV, a Welsh MP has said.
Plaid Cymru MP Liz Saville Roberts said that during the 2013 mislabelling of red meat scandal, horse meat was found in supermarkets and slaughterhouses, including one raided near Aberystwyth.
She said that while the use of CCTV in Welsh slaughterhouses was a devolved matter, it was a cross-border issue.
The UK government said it encouraged the voluntary use of CCTV.
Speaking during a Westminster Hall debate, the Dwyfor Meirionnydd MP said that because of a lack of local facilities, horses kept in north Wales may well be taken to slaughter in the north of England.
She said that Brexit had also created questions regarding equine slaughter and broader animal welfare laws.
Minimum standards for the protection of animals at the time of slaughter are currently set out in 2009 EU regulations.
"If, and I use 'if' knowingly in this context, one day the government's Great Repeal Bill does as is promised and transposes all EU law into UK statute, decisions on minimum standards in slaughterhouses will have to be made once again," she said.
George Eustice, the Agriculture, Fisheries and Food minister for England, said that it was a devolved issue and that only 32 animals had been killed in slaughterhouses without CCTV in England in the previous year.
CCTV was often required by retail outlets and food assurance schemes, he said.
"The reality here is that if anybody were to consider measures on CCTV, I'm not sure that there's a specific reason to single out those abattoirs licensed for horses.
"I think if you were going to do it - it would be a broader view that you would take across all species because the principles are broadly the same," Mr Eustice added.