Hammond: Welsh angles, city deals and warm words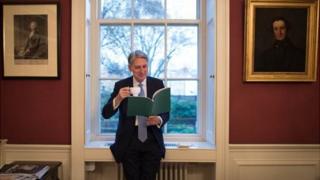 It is the most challenging two minutes of my year: explaining to a live TV audience what the Autumn Statement means for Wales - while the chancellor is still delivering it.
It is also a challenge to discover - and explain - what parts of the statement apply beyond England, which are devolved, and which have those Barnett consequentials.
It is an even greater challenge when even some people within the Treasury believe housing announcements affect "England and Wales". In case you were wondering, the ban on letting agency fees applies to England alone - the Scots have already introduced a ban, the Welsh Government is less keen.
So here are a few instant Welsh angles I noticed from Philip Hammond's first major Treasury event.
'Warm words'
He told MPs there would be an extra £400m for the Welsh Government as a result of higher spending in England - a "significant increase" in the chancellor's words.
What he didn't say in the statement was that the money would be allocated over five years. (Welsh Government spending in that period will be around £60bn and ministers in Cardiff will point out it has been cut in real terms).
As expected, he offered "warm words" on city region growth deals with Swansea and North Wales.
He didn't mention the proposed Swansea Bay tidal lagoon project (I suspected he might not), although I'm told we shouldn't read too much into that either way.
'Timetable'
Philip Hammond is a chancellor prepared to allow individual projects to progress at their own pace rather than deliver them to a timetable that fits in with parliamentary and news management. Treasury Minister Jane Ellison told me the project wasn't included in the Autumn Statement because the Hendry Review has not yet concluded.
The Office for Budget Responsibility has also downgraded its forecast of Welsh tax takes ahead of the Welsh Government getting control over some tax revenues.
It is easy, perhaps too easy, to report these UK-wide events in terms of what they mean for government-to-government dealings, if you're on the "national living wage" or universal credit changes in those areas will probably make more difference to your daily life than cash for devolved governments.
And although the Autumn Statement is not a Christmas tree, Mr Hammond did unwrap a present for Cardiff in the shape of financial help to relocate a museum of military medicine to a disused station building in the city.