Autumn Statement: Use extra cash to stop floods, Plaid says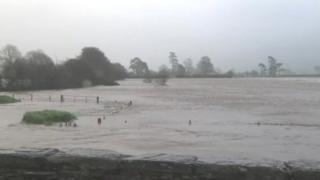 Cuts to the flood defence budget should be reversed using any extra money the Welsh Government gets in the Autumn Statement, Plaid Cymru has said.
"Tens of millions of pounds" have been promised to Welsh ministers, as the chancellor addresses MPs on Wednesday.
The Welsh Government is planning to cut capital spending on climate change projects by 36% over two years.
Welsh ministers said they were spending more than £54m in 2016-17 reducing flood risk for 3,500 homes and firms.
Chancellor Phillip Hammond will share £250m between the devolved governments in Cardiff, Edinburgh and Belfast as a consequence of plans to spend £1.3bn on road improvements in England.
Documents submitted to the assembly's climate change committee show capital spending for flood risk management and water will fall over two years from £30.4m in 2016-17 to £17m by 2018-19.
The Welsh Government's total capital budget for 2017-18 is around £1.4bn.
'Weird priorities'
At a news conference on Tuesday, Plaid Cymru AM Simon Thomas said ministers should use any extra money, or borrowing powers, to reverse the planned cut.
"Plaid Cymru has said all along we want to see that capital spending on flood prevention," he said.
"We think it's part of the mitigation for climate change that needs to happen."
Mr Thomas suggested that the environment and finance secretaries would like to cancel the cut.
"Lesley Griffiths and Mark Drakeford both said if there was extra resources released then they'd be looking to try to make up that cut," he said.
"Why they cut it in the first place I don't understand because that shows a weird set of priorities - we see it today in particular," he added, referring to the effects of Storm Angus.
"I would certainly want to see that budget restored as a first port of call."
A Welsh Government spokesperson said: "We will not know how much more capital funding there is for Wales until the Autumn Statement tomorrow.
"This financial year we will invest more than £54m in flood risk management across Wales, reducing the risk to at least 3,500 homes and businesses.
"We are already planning for future flood and coastal risk management by working alongside local authorities to develop an innovative £150m programme of capital investment to start in 2018-19."