Economic advice shake-up expected following Brexit vote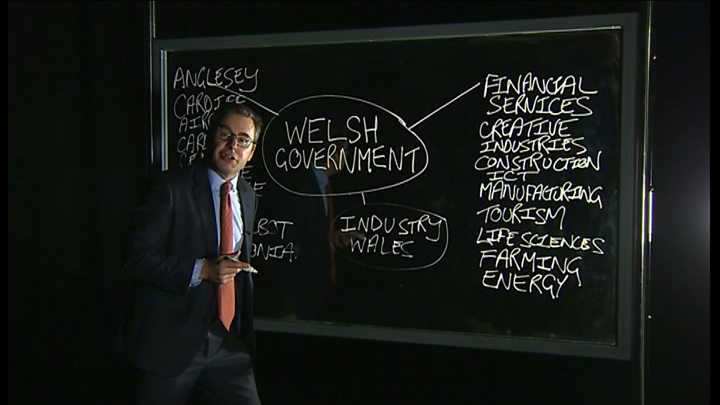 A shake-up of more than 40 bodies which advise the Welsh Government on economic development is planned.
Economy Secretary Ken Skates wants to streamline the system as part of a wider review into Wales' economic priorities after the Brexit vote.
Ministers get advice from a number of different panels and trade bodies.
"At the moment there are simply too many boards and panels in existence," Mr Skates told AMs on Tuesday.
The organisations vary from nine panels, made up of representatives from the private sector, advising ministers on individual sectors, to specialist trade bodies like Industry Wales, which represents the automotive, aerospace and electronic manufacturing industries.
"More secure"
Ministers also receive advice from eight boards representing enterprise zones across Wales, as well as regional skills partnerships.
Many of the advisory bodies were created by Mr Skates' predecessor Edwina Hart.
It is understood the Welsh Government wants to simplify the structure of the advisory boards and avoid duplication with the work carried out by civil servants in the economy department.
Mr Skates said: "We need to make sure that the time and resource that experts and business leaders put into giving me advice is used effectively and that I am able to draw on all of that advice."
A Welsh Conservative spokesman said: "This is yet more chaos from the Welsh Labour government, who since the vote leave the EU have displayed a worrying lack of leadership and ideas on how to prepare the Welsh economy for this period of unrivalled opportunity.
"Wales' small businesses are screaming out for a fairer rates system and more financial support for expansion so that they can tap into the rich seams of the global export market."
Brian Morgan, professor of entrepreneurship at Cardiff Metropolitan University, told BBC Radio Wales he sat on many of the advisory groups himself, describing them as "talking shops" with few resources.
"We've had 16 years of them [the Welsh Government] trying to do things centrally - there's a lot of lags in decision making," he told the Good Morning Wales programme.
"What we need is three or four organisations founded with resources that can take those decisions at a regional level.
"That's what we haven't got at the moment - that's why there's so little action."